The 2014 VINZ International Rally of Whangarei was a bittersweet event for Bay of Plenty competitors with highs and lows for all throughout last weekend.
Rotorua driver Sloan Cox took out his maiden leg win, with a 5.9 second lead over Richard Mason on the Sunday stages.

David Holder took out first place. Photos: Wayne Cockburn / www.motorsportphotography.co.nz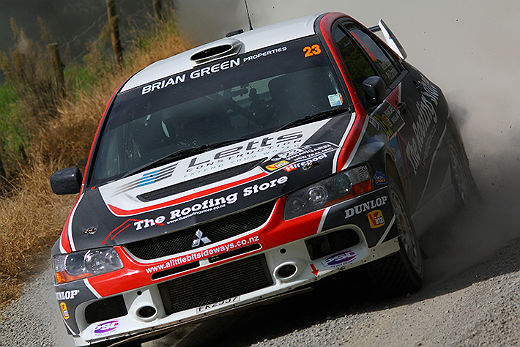 Phil Campbell experienced clutch failure on day one.

Sloan Cox took out his maiden leg win.
After crashing out on Saturday, the team got their EVO10 repaired to tackle stages on Saturday afternoon to deliver a convincing drive through the six stages on Sunday.
"It was an awesome event for us, especially on Sunday when I got my first leg win. Although the event didn't quite go as planned, it was great to show that I had the car speed to be at the top," says Cox.
Tauranga driver Phil Campbell also had a weekend of highs and lows.
After experiencing clutch failure on the first day, the team worked overnight to get their car ready for Sunday.
After the lows of Saturday, Campbell and co-driver Venita Fabbro finished the second leg in third place for the day, behind Sloan Cox and Richard Mason, who experienced brake problems during the Sunday leg.
"We are really happy with our pace from the weekend and the team did an awesome job to get us going again for the Sunday. We're looking forward to Otago now," says Campbell.
Mt Maunganui driver David Holder finished the six road stages of day one in a solid first place in his Stadium Cars EVO8, ahead of Subaru driver Richard Mason.
Going into the two Pohe Island Super Special stages, Holder ran out of fuel, having suffered from a fuel leak in the twp previous stages.
With not too many options, the team were forced to refuel incurring a five minute penalty as a result, forcing Holder back down the field for the second day.
On the Sunday stages, Holder went wide in a fast left hander, running off the road and damaging his radiator ending his rally.
"I made a mistake on the third stage of the day. I went wide, got the back of the car hanging over a bank, and the corner sucked us right in. We've got a bit of work to do on the car, and we are hoping we can get to Otago and build on our experience from there."
The New Zealand Rally Championship now heads to Otago, for the DriveSouth Rally of Otago to be held between May 9 and 11.