It'll be 'third time's a charm' for Tauranga drifter Cole Armstrong when he burns rubber at this weekend's Demon Energy D1NZ National Drifting Championship.
Cole is looking to improve on two years of "bad luck" when he goes up against more than 50 of the best drifters from around the country and the world at the annual event held at ASB Baypark.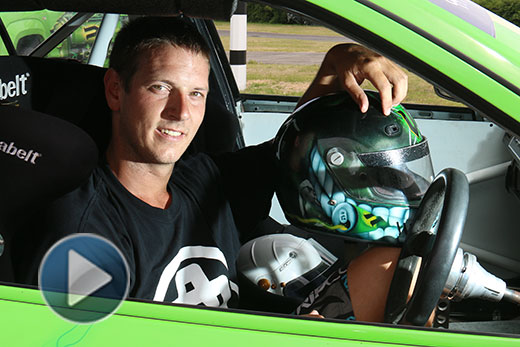 Click the image above to watch the video


Tauranga drifter Cole Armstrong hopes for plenty of support from his hometown crowd when the Demon Energy D1NZ National Drifting Championship Series returns to ASB Baypark this weekend. Photos: Tracy Hardy.
"Last year we crashed out and the year before that we broke the car, so we've got this new weapon which we've finally finished and we think we've developed it really well," says Cole.
His weapon is a 2002 Skyline 250GT that's been stripped right back and features a Dodge Nascar V8 engine that pumps out 700hp of drifting glory – the only car of its kind in the country, he says.
Also parked up in his garage is a R34 Skyline which "good buddy" and professional V8 supercar driver Shane Van Gisbergen will be hurtling around the track this weekend.
"That'll be cool to have both the cars here," says Cole. "We're very excited to be showing the Tauranga crowd this new weapon we have here.
"The 250GT is a very industrial sort of setup, it pulls a lot of revs, has a lot of horsepower and it sounds pretty insane."
Cole say he's feeling really good ahead of the weekend and is looking forward to putting on a show for his hometown crowd.
He's hoping locals will come down to cheer him and eight other Tauranga drifters competing this weekend.
His fellow local drifters are David Steedman, Adam Davies, Jodie Verhulst, Drew Donovan, Ben Belcher, Geoff Muggeridge, Aden Omnet and Calvin Clark.
"This is an awesome family fun event and weekend," says Cole. "For all the Tauranga and Mount people out there, I'd really love you to come along and support us Tauranga drifters.
"The more crowd support we have the harder we go and we'd really like to put a good show on for you all."

The Dodge Nascar V8 engine that powers Cole's2002 Skyline 250GT.
Dubbed the 'Summer Smoke Out' series, this weekend's event is the third round of the series with the 50-plus drivers spread across two classes – Pro-Championship and Pro-Am Development.
Series organiser Brendon White says they're encouraging fans to come dressed in costumes and bring supporter signs for their favourite teams and drivers.
Tomorrow evening will also feature a special fan-judged teams competition where teams of up to four cars will aim to thrill the crowds on track with plenty of spot prizes up for grabs.
Saturday will also see twilight team drifting take to the track and will be something they haven't done in a long time.
"On the Saturday evening we're giving the power to the fans to join in the fun and cheer for their favourite teams and drivers," says Brendon. "Team drifting is an awesome spectacle to watch and we've got an open free-style format.
"This is sure to entertain crowds before we kick off the main competition on day two."
Drift lovers will also be treated to a huge fireworks display thanks to series partners Pyro Company Fireworks.
Also joining the festivities are the Demon Energy Freestyle FMX Team and Stunt NZ as part of supporting entertainment, alongside fundraising for the Drift For A Cause charity.
The charity provides people with physical disabilities opportunities to experience driving and drifting using hand-control technology.
The Demon Energy D1NZ National Drifting Championship is at ASB Baypark tomorrow from 10.30am and Sunday from 9.30am.
Single day tickets start from $15, and entry is free for children under five. VIP and family passes are also available.
For more information and event tickets, visit: www.d1nz.com