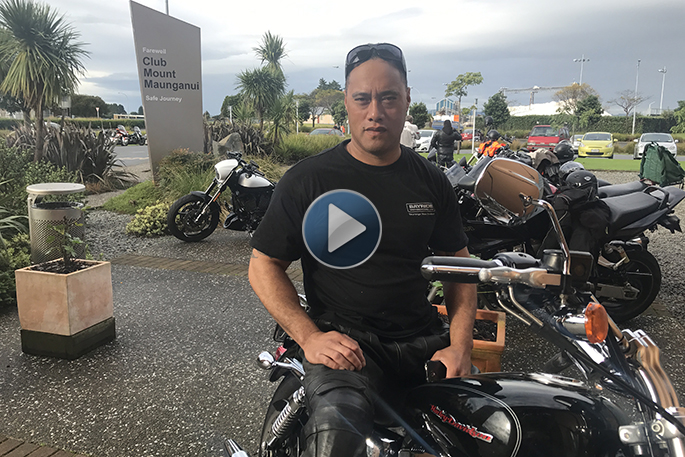 Click the image above to watch the video
Tauranga Weekend Riders gathered this morning to lead hundreds of motorcyclists on the S.O.S Edgecumbe Charity Ride.
Their goal: to raise money for those still dealing with the fallout from last month's flood, including those still cleaning up their homes, and those who need a place to stay.
Starting at 9am with a health and safety briefing the organisers emphasised how motorcycling is a social activity spreading motorcycle riding friendship with those who enjoy riding on a regular basis. It also provides opportunity for the motorcyclists to show support for charities and communities.
Organiser Tony Ngawhika was in Edgecumbe during April helping with the clean-up in the aftermath of the flooding when he had the idea for the Sunday charity ride.
In what was originally expected to attract around 200 riders, Tony thinks there'll probably be closer to 400.
Setting off at 11am, the motorcyclists are expected to arrive in Edgecumbe about 1.30pm and will make their way to the Te Teko Racecourse where many of the population from Edgecumbe and surrounding district are expected to be enjoying the Oho Ake Rise Up Edgecumbe Concert.
Andy Edgar from Western Bay Riding Motorcycle Training with Catherine Fleming from Bay Ride Motorcycles at the raffle table, with over $1000 of donated prizes for the motorcyclists to win.
Sera Langdon (L) registering Ricki Lee Manning and Carl Willetts for the S.O.S Edgecumbe Charity Ride at Club Mount Maunganui.
Helen Murphy and Merita Orgias with S.O.S Edgecumbe badges for the motorcyclists.
Motorcyclists Jemina Chiles, Robyn Carson, Des Chiles, and Paul Carson.
Shane Stowe with son Elijah Stowe age 18 months.