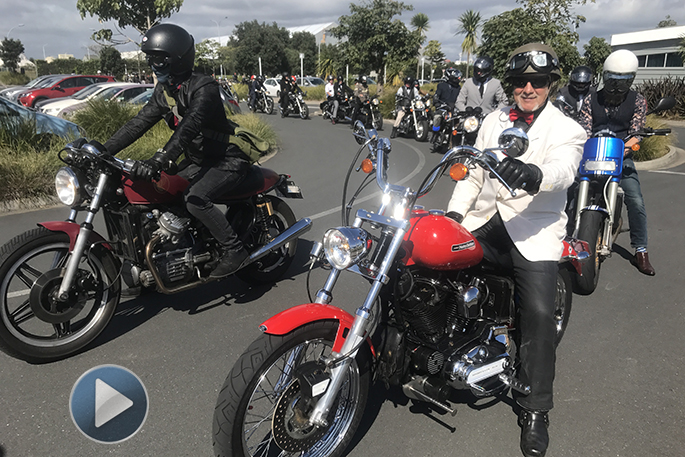 Click the image above to watch the video
On Sunday morning, 140 dapper and finely attired riders tweaked moustaches and embarked on the Distinguished Gentlemen's Ride.
Parking their vintage and classic motorcycles at Club Mount Maunganui, the riders were given a health and safety briefing before setting off.
Event organisers Damian Fleming from Bay Ride Motorcycles, and Darren Leggatt, say the ride, which attracted 70 riders in 2016, is essentially about men's mental health and prostate cancer research.
"At the moment, about one man commits suicide every minute across the globe," says Darren. "So we're trying to make sure this doesn't happen anymore. We're trying to help men break down the barriers of fear, that most guys won't open up or talk about these things."
Getting awareness out there is something the pair are keen to do, and they encouraged the men going on the ride to get their prostates checked and talk with their partners about their health. The ride is also a fundraiser for men's health – specifically prostate cancer and men's mental health.
"We want to do this charity ride every year," says Darren, who is wearing a bowtie with his suit. He tweaks his moustache and jokes that Damian's moustache is not quite as fine as his "It adds a bit of a theme. Most of us have got curling moustaches."
Roger Craw, Blair Jones, Hud Milne and Brad Nicholls at Bethlehem Town Centre.
The ride was founded in Sydney, Australia by Mark Hawwa. It was inspired by a photo of Mad Men's Don Draper astride a classic bike and wearing his finest suit. Mark decided a themed ride would be a great way to combat the often-negative stereotype of men on motorcycles, while connecting niche motorcycle communities together.
That first ride in 2012 brought together more than 2500 riders across 64 cities. The success of the event encouraged the founder to consider how it could be used to support a worthy cause. Since then, the event has grown annually and in 2016, more than 56,000 participants in 505 cities in 90 countries raised more than $US3.6 million for prostate cancer research and men's mental health programmes in partnership with the Movember Foundation.
The Distinguished Gentleman's Ride is a celebration of the art of being dapper and classic custom motorcycles. Monocles, jaunty trimmed moustaches, silk vests, crisp shirts and tailored suits. Classic and vintage motorcycles, fine manners, and a sense of fun. Participants are encouraged to raise funds by asking their friends, family and colleagues to donate via a personal fundraising page.
Damian and Darren are hoping to crack $10,000 donations from the ride. The tally after their first stop at Bethlehem Town Centre was already showing over $9,000 collected.
"Each person has the opportunity to go and create as much awareness as they can," says Darren. "Some have raised around $700 each."
The group had another stop at The Strand in downtown Tauranga before heading to their final stop and refreshments at Classic Flyers.
To make donations go to www.gentlemansride.com
Danni Zoll who is riding a Honda CB400 with Diego Zampieri who is riding a Harley 1200. It's their second year riding in the Distinguished Gentleman's Ride. At Bethlehem Town Centre.
Hamish McLean and John Booker.
Neil Bond and Angelina Bond, 8.

Spike Dodds and Vana Moore.