A $20,000 shortfall in funding is threatening to derail rising Mount Maunganui rally driver Dave Holder's national series chances with the 24-year-old driver needing to find the money in the next week to compete at Rally Wairarapa.

"I'm still doing everything I need to do to prepare the car, but the reality is if I can't get the funding I won't be able to go," says Dave.


Mount Maunganui driver Dave Holder is determined a funding challenge won't make him miss next weekend's Rally Wairarapa, after his successful 4WD series season debut.

He thanks all of his partners for their support, making the season to date possible, but says campaign costs in the top 4WD class double that of the 2WD class he competed in last year sees him left short.

"It costs about $80,000 to run one of these cars, and we are probably spending less than most; and some of the top guys are spending quite a bit more."

Dave says in 2013 he'd got by with some sponsorship and topping his campaign up out of his own pocket, but this season the gap is too large to cover by himself.
"I'd be tempted to put it on the credit card, so I can do the next round, but with unforeseen expenses like the engine that's just not achievable."

In the final few stages of the Lone Star Rally of Canterbury on June 1 Dave's crew started to hear engine noises in the Stadium Cars Mitsubishi Evo 8, which turned out to be a problem with the bearings.

"We've managed to save the engine, but it's another $1500-$2000 in extra unforeseen expenses."

Dave finished second overall at Rally Otago in May, taking him to fourth place overall in the series – a place he held in the Canterbury rally earlier this month where he finished third.

But he risks losing any advantage if he forfeits the fourth round of the series at Rally Wairarapa on June 28, before returning to race the last two rounds in August and September.

"We've been very fortunate and we've had a lot of support to help us get to where we are, but if we miss this round that's pretty much it for the season – unless there are some big upsets."

Doing a lot better than he expected in the first half of the series, Dave says he still had "heaps" to learn before he could pick up his pace to challenge the top drivers for the lead.

"We are definitely happy that we are getting results, but Richard [Mason] and Ben [Hunt] are going quite a bit faster – so one of the next things we need to work on is doing our own pace notes rather than using someone else's notes."

A good relationship is developing between Dave new co-driver Ben Hawkins, and their focus on a 'no-nonsense, steady as she goes' approach is paying off.

As result, Dave hopes the strengthening partnership allows them to up their pace in coming rounds. Dave is keen to discuss sponsorship options with anyone interested and urges them to contact him at dave.a.holder@gmail.com or on 027 370 2316."

Dave thanks all his sponsors for support:

Stadium Cars, Gull Fuel, VINZ, Magnum Compliance, Force Automotive, Endless Brakes, Prelim, Sew Hot Monograms, Nichibo, Mount Wheel Alignment, Speedy Signs Tauranga, Attentive Design, Jason Gorton Building, Bay Panel Beaters and Monit Rally Computers.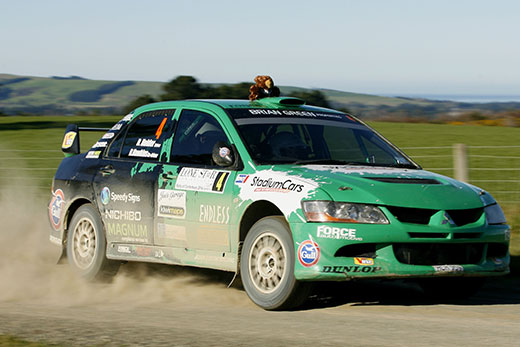 Dave Holder's safe and steady driving at the Canterbury rally earned him third place in the latest round of the national series. Photo by Euan Cameron.