Ivan Allen could have built the Taj Mahal twice over in the time his own miniscule by comparison rebuilding project has taken him.
"I am not finished yet," says Ivan reassuringly. "But I'm not far from finished."

Man and bike: Ivan Allen and his near restored 1928 Humber 350.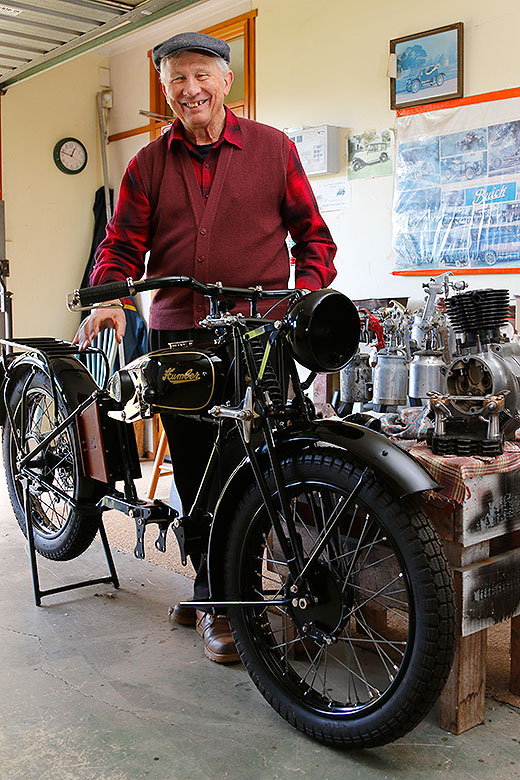 The distraught Emperor Shah Jahan built the white marble mausoleum for his late favourite wife in 20 years. Ivan's motorbike, his living love, has taken more than 40 years to rebuild. Or thereabouts.
That's not quite fair though – because Ivan has only given the project his full focus and commitment for the last 18 months.
"For 40 years I was collecting a lot of bits which were missing and that I knew I would need. And 18 months ago I had enough bits to do what I wanted to do."
However, from conception to this point where he's just waiting for some parts to be nickel-plated, has been about 50 years.
And "enough bits" is what Ivan needed to get started rebuilding the 1928 350cc overhead valve Humber motorbike.
It's not a pretty machine and it's not fast. After climbing through the three-speed gear box the rider probably still wouldn't be going fast enough to mess their hair or make their eyes water – 80km/h maximum perhaps.
But there was no point in having a motorbike that went fast in those days. "The roads weren't good enough."
And the bits still missing? "I would make them." He is handy this Ivan.
After 50 years, time became the essence. "It's creeping on," says this fatalistic retiree. "I thought I better get my A into G and do it. Otherwise, I'm not going to see it done either."
Humber motorbikes are rare birds. Ivan knows of no others in New Zealand, there is one unrestored in Australia, three or four running in England and one in Denmark. "They're thin on the ground."
I thought Humber built cars Ivan – the Humber Super Snipe, the Humber Hawk, the Humber 80 and later under the Rootes Group banner, the Hillman Minx and Hillman Hunter?
They did, but only after manufacturing bicycles. Then in 1896 they produced the first practical motorbike by fitting a two horsepower engine to a bicycle. And it looked just like that – a bicycle with an engine screwed on.
"The depression came along and things were hard to sell," says Ivan. So when non-essentials like motorbikes weren't selling well, they stopped making them. And that's exactly what the Rootes Group did when they took over Humber in 1930.
"My Humber is a 1928 – two years from the end of the line." So it's a valuable machine. Valuable but bum-numbingly basic.
"You have got girder forks and rigid frame – no springs in the back end." The only springs are what God gave you – your backside. "It's a hard ride – she's very bony in the backend."
Ivan has a love/hate relationship with motorbikes. His first was a BSA Bantam – he got at age 15. It cost him four quid – four pounds 10 shillings to be exact – a whole week's wages.
"Awful damned thing. Bloody two stroke! Go up a hill and it would cough, bang, back fire and seize up." I bet that wasn't in the manufacturer's notes.
After BSA experience Ivan did the unthinkable. He bought the Humber – the ghost of a Humber.
"No, it wasn't going." Which is delightfully understating the situation because it was just a pile of scrap, a pile of "bits".
There was an engine, frame, gearbox, petrol tank, back wheel and back mudguard. Well, most of a back mudguard. But remember, he'd have 40 years to find the other "bits" and what he couldn't find he would make.
Now he's within cooee of finishing his life's work – well half his life's work. Those "bits" are in being nickel-plated. "The price of nickel plating would scare you to death."
And when that's done, it'll only be a few months before the 1928 350 CC overhead valve Humber motorbike is up and sputtering. And a "few months" is nothing in the scheme of things.
"I will have spent several thousand dollars on it of course. But that's well within its restored value." And you don't count the man hours. It's a labour of love. "It's the pleasure of rebuilding something – saving something – recreating a bit of history."
And for that he deserves our gratitude I suppose.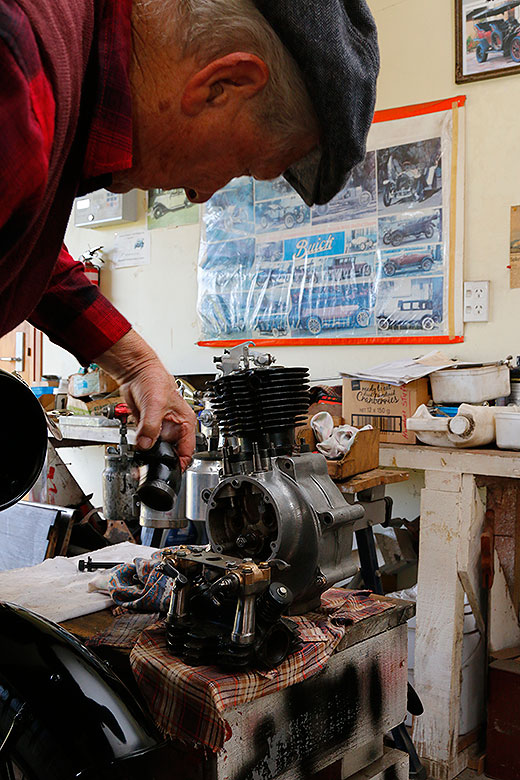 Now what's interesting is Ivan's personal satisfaction seems to stop short. He hasn't given a thought to taking this meek beast out for its maiden run.
"It's one of those things – when the job's done, it'll be done. I don't think about riding it."
However, I suspect there will be many others in the Tauranga Vintage Car Club who'll take immense pleasure from Ivan winding up the Humber and kicking it over, kicking it back into life.
Then, if the job is done, as he says it will be, what will Ivan do with his days?