Opotiki driver Michael Young is set to tackle the incredibly tough Malaysian Rally, based in Johor Bahru against world-class competitors this weekend.

The 22-year-old driver is the only Kiwi competing in the Asia Pacific Rally Championship and is ready to continue his fight for the overall APRC Championship.

Mike Young and Malcolm Read in action during Rally Queensland held in July. Photo: APSM.

But Michael says he knows this rally in particular is one of the toughest on the calendar.

"There are so many massive challenges in Malaysia but the extreme heat and temperatures in the car is one of the main ones," he explains. "It's always a big shock to the system arriving in Malaysia where it's nice and warm. The heat is perfect for a holiday but not so much when you're driving a rally car."

The 2015 event also marks a special anniversary for Michael and Hamilton co-driver Malcolm Read as they celebrate the third year of their successful partnership, which started in Malaysia in 2013.

"Malcolm and I have had a lot of fun over the past three years and we make a pretty good team," says Michael. "In the three years that we've competed together, we've managed to finish every rally and have enjoyed lots of success as a result. We're keen to continue this trend in Malaysia."

Michael describes the Malaysian roads as tough due to them being "very tight and twisty", and slower speeds means there is no air coming into the car which will make it hard to concentrate.

There are also deep ditches that line the road which are "easy to slip in to, but hard to get out of, plus there are palm oil trees that are everywhere," he says.

On the back of graduating 'Top of the Class' at the 2015 Motorsport New Zealand Elite Motorsport Academy, Michael feels he is prepared for the notoriously tough event.

"We learnt a lot of things at the Elite Motorsport Academy that are going to be a huge help in Malaysia. We talked about things like hydration, mental skills and heat stress there so all of those will be vital for success in Malaysia with the hot and challenging conditions."

It won't be an easy task for the Kiwi duo to win the event outright with a number of internationally acclaimed drivers competing this weekend.

Their main competition in the Production Cup category will be Indonesian driver Subhan Aksa who has enjoyed considerable success at the Malaysian Rally in the past.

"I think Subhan will be my biggest rival in Malaysia as he has a lot of experience on these slippery roads and has done well here in the past. We have battled all year in similar cars and I'm sure Malaysia will be no different."

The Malaysian Rally begins with a ceremonial start this Friday evening at the Angsana Complex in Johor Bahru.

Teams will then compete across 14 closed special stages, totalling 226.56km, at the palm oil plantations around Kota Tinggi over Saturday and Sunday, August 15-16.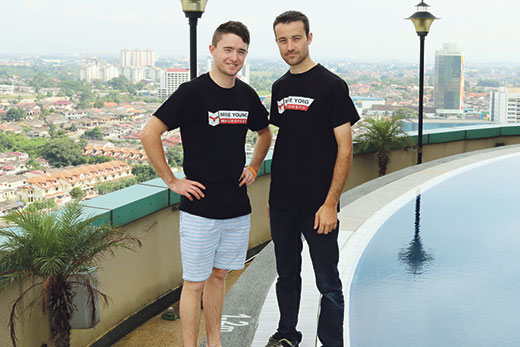 Mike Young and Malcolm Read at the 2014 Malaysian Rally. Photo: APSM