Every time I step into a new car for review, I know someone, somewhere is looking to purchase this ride. A reviewer's job is to do a pre-purchase run-through and find the strengths and design features built into every car.
This time it's the popular crossover Subaru XV SUV Premium. It's a five-seater AWD with a four-cylinder petrol engine coupled to a seven-speed auto/manual transmission.
Nothing unusual there, but it's the way everything works together inside and out that makes the Subaru a complete package and one of the most popular SUVs around.
On the dealer yard and the road, the Subaru XV grows on the eye the more angles are taken to look at it. Inside the cockpit all the driver-assist elements and major controls are within easy reach.
This is an SUV driver cockpit that feels beautifully contoured to the driver's touch and that makes for a quite exquisite first impression.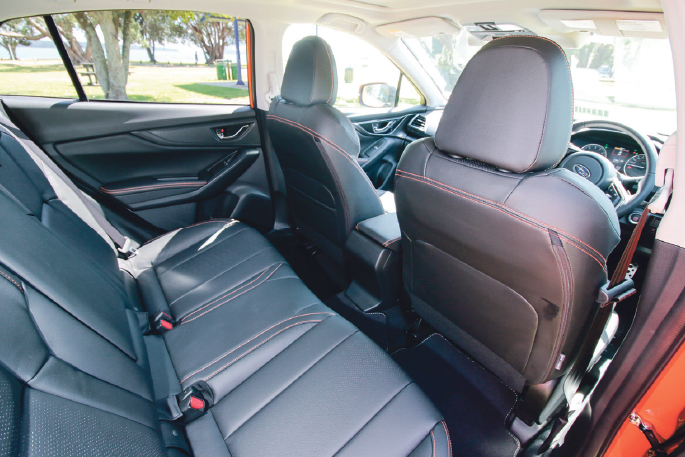 Popular drive
The Subaru XV is one very popular ride. No less than four of the Subaru XVs had 'sold' stickers on them while I waited for the review model to be made available from the Farmer Subaru dealership.
But while I was waiting, a funny thing happened on the way to the driver's seat.
A conversation was soon struck with a person eyeing up the review Subaru XV. It soon became clear - one of the two of us was actually buying.
Local resident Cheryl Mercer knew the Subaru XV inside out and she was there to make final checks on colour availability and make a final purchase decision about a competing model.
The Subaru XV was the drive of choice and she had driven it over a weekend just to make sure.
It was time to talk hands-on Subaru from a buyer's perspective.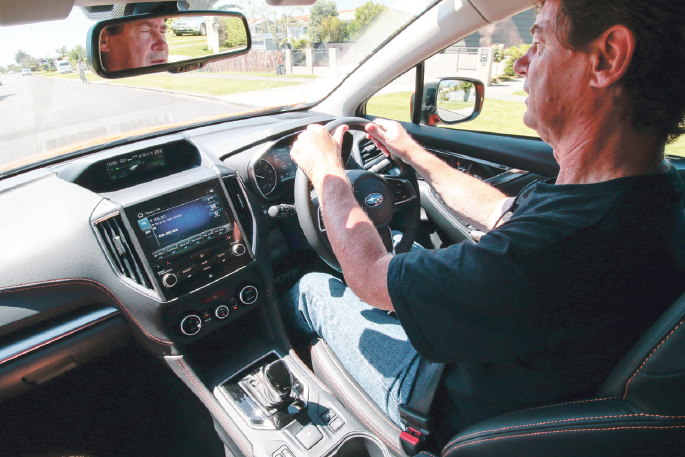 A buyer's drive
Cheryl's first impression of the Subaru XV AWD was one of comfort and smoothness, in part attributed to heated leather seats. Bright orange stitching on the dark grey leather gives the interior a boost of colour and class, with the stitching carried over to the auto/manual transmission shifter. AWD is standard on the Subaru XV, not an extra feature at an added premium price.
Among the many safety features that caught both drivers' attentions was the blind spot warning indicator.
Instead of the usual light on the door mirror, there is a large light on the edge of the frame. Drivers can't miss it. It comes into play when lane changing and a vehicle is just out of sight in the driver blindspot.
It is a great Subaru innovation to keep both driver and other vehicles safe on the road.
The other eye-catching feature is the Subaru XV has two screens; a larger 8-inch display in the middle of the console and a second smaller one recessed in the dash as part of Subaru's EyeSight safety feature set.
The front seats have great back support and for a relatively compact vehicle there's a decent amount of leg room and the seats are well-designed and comfortable.
On the road both drivers found the XV handled tight corners well with minimal body roll and no loss of traction. An added bonus was the low road noise level, particularly on the smooth highway seal out to Papamoa.
Cheryl noticed the XV has higher ground clearance than a standard car, which gives better visibility for those who may be 'height challenged' and that height provided a welcome sense of driver security.
After driving it, Cheryl bought a blue Subaru XV to be delivered in the New Year.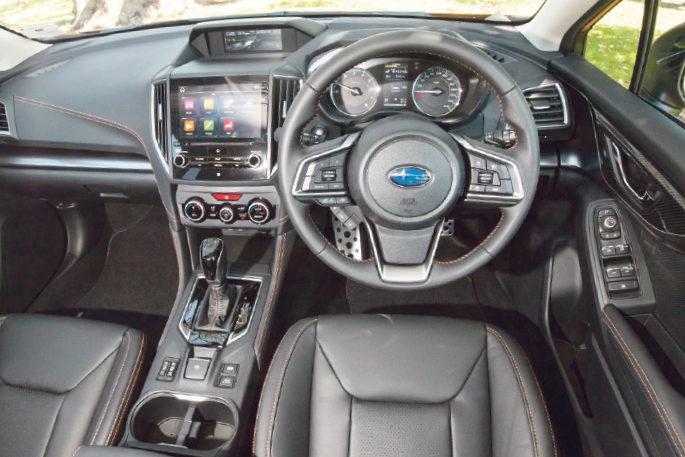 A reviewer's review
The Subaru XV is a ride that will appeal from the moment that perfectly contoured cockpit wraps around the driver. The fit and finish is superb and the extra mid console screen is a real driver bonus.
All of that interior comfort is coupled to a range of safety devices under Subaru's EyeSight feature set. EyeSight monitors traffic movement through an in-built set of cameras that optimise cruise control and warn if drivers sway outside their lane. Add these safety features, along with seven airbags and a pre-collision braking feature that can apply full braking force in emergency situations, and Subaru's EyeSight safety tools will be welcomed by drivers using the Bay's increasingly busy roads.
Fully customisable seats, electric sunroof and custom steering position all combine to provide a degree of 'this is my ride and no one else's!'
The lingering aftertaste of the Subaru XV AWD is in the way it fits around the driver in a spacious and luxurious interior while delivering enough engine pep and transmission shifting tech to keep drivers happily on the go.
The on-road personality is never intrusive or aggressively noisy. The Subaru XV is another crossover ride that has more in common with family cars in its on-road demeanour than large SUVs designed to tow caravans and boats.
Other small details (note the roof-rack) can make for a small but welcome addition to a daily SUV crossover drive.
The XV AWD is a winner for Subaru. Inside and out, this is an SUV package designed to keep drivers safe, comfortable and with enough get-up-and-go to make summer driving fun, with an open-air electronic sunroof to go. Summer Subaru driving will be light, fun and breezy and I predict the Subaru XVs will be out and about everywhere around the Bay's beaches this summer.
Try that cockpit on for size and you may find you too get smitten by the popular SUV summer bug going around the Bay called the Subaru XV AWD!
Specs
Engine: 4 cylinder 2L
Power: 115kW@6900rpm
Torque: 196Nm@4000rpm
Fuel consumption: 7.01/100km
Transmission: Lineartronic SLT with manual mode
Price: $39,990+ORC (Subaru XV SUV Sport also available for $34,990+ORC)