Looks can sometimes be deceiving, but not in the case of Hyundai's all-new Kona. Just look at it – it's a stunner. I would even go so far as saying it's very un-Hyundai, given their usual sleek, business-like design. It looks fresh out of Europe!
You could blindfold the love of your life, make airplane noises for 24 hours and tell them you'd just landed in Europe and were heading for a gorgeous waterfront hotel. You might have to, after blindfolding them for 24 hours.
There's something about the Kona that draws you in and keeps you captivated. Even driving the Kona is an experience. For a relatively compact SUV, it's incredibly spacious and feels so well-planted on the ground you'd think you were driving a much larger, more expensive SUV.
This isn't reflected in the handling though. That planted feel is matched with incredibly nimble manoeuvring. It's actually quite a sporty feel.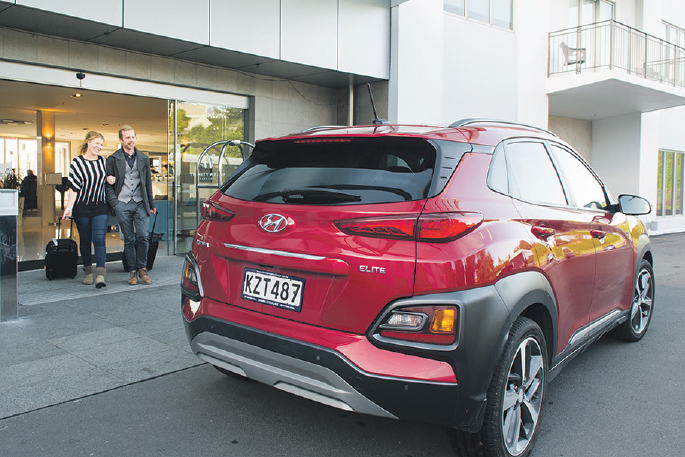 Into space
Space isn't an issue either. Again, the interior feel of spaciousness can lull you into believing you are in a much larger vehicle. The Kona doesn't look very high from the outside, but inside there's a good gap above this six footer's noggin, and ample room in the back for your chums.
Thinking about it, one could almost be forgiven for thinking this is a certain favoured vehicle of a certain doctor and comes equipped with a chameleon circuit. The cool kids will know what I mean.
The Hyundai Kona comes in four flavours – two versions of the 2-wheel-drive, 2.0L engines with 6-speed automatic transmission, and two versions of the all-wheel-drive, 1.6L turbo charged engines with 7-speed dual clutch automatic transmission.
Colour me
Our sexy 'Pulse Red' model is the 2.0L Elite version, the top spec for either engine variant. At 110kW the drive is refined and smooth, a perfect match for the size of the vehicle. The 1.6L turbo version has a bit more grunt, coming in at 130kW.
Like a lot of modern cars, the variety of paint finishes is vast. However, the differences in the Kona is that so many of the different colours give the car a distinct personality.
For instance, the 'Blue Lagoon' looks smart yet fun, 'Tangerine Comet' is that friend that's up for anything, and as for 'Acid Yellow', talk about attention-grabbing, stand out from the crowd!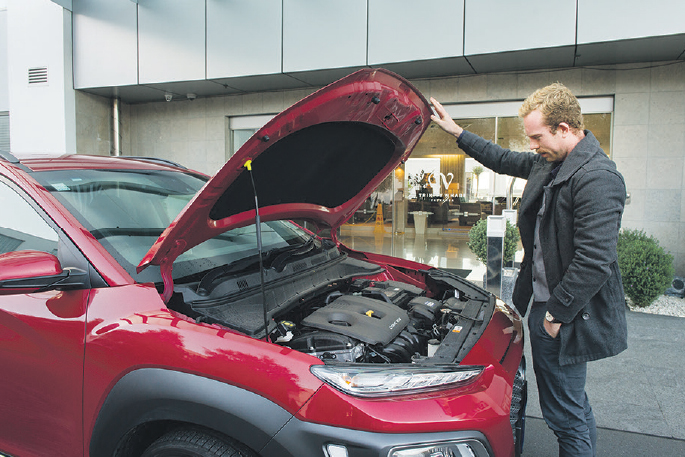 Features galore
The list of features is extensive, from the Heads-Up-Display to the lane warnings, to the simple, yet comprehensive and very sophisticated-looking centre touch screen to pair your phone, stream your music or find your way using GPS. The centre console on the Elite model also features a wireless charging pad, so you can just sit your compatible phone down in a safe spot and let it charge as you go.
There's Apple CarPlay and Android Auto for ease of connection, and all of this entertainment wrapped up in a 7-inch touchscreen that's simple and intuitive to use.
Of course, on top of all this, let's not forget it's a Hyundai. The South Korean auto-maker has come a long way from its humble beginnings to become one of the most trusted brands of car-makers today.
The Hyundai Kona comes with a three-year, 100,000km warranty as standard, and is topped off with roadside assistance. Not only that, you also get a 10-year, 200,000km anti-perforation corrosion warranty. Hyundai also offers optional extended warranties, which like new car warranties, can also be transferred to a new owner, should you ever choose to sell.
The outcome
So, what do we end up with? Great-looking, fun to drive, reliable, efficient, well-backed and, I'm going to repeat myself – great looking!
The Hyundai Kona enters a crowded marketplace of multiple compact SUVs and it stands out from the crowd. Having the option of an all-wheel-drive model is standout for this segment, but the build, feel and overall experience on top makes for an exceptional vehicle.
Fuel economy isn't a concern either, with 7.2L/100km in the 2.0 variant, and just 6.7L/ 100km in the 1.6 Turbo.
All in all, the Hyundai Kona is a well-made, fun to drive car that will surely be popular. If you want to try one out for yourself, head over to Farmer Hyundai on Hewletts Road for a test drive. They currently have a range of colours on show in the showroom, and you'll no doubt spot one you love.
Specs
Hyundai Kona
Engine: 2.0 16-valve CVVT
Transmission: 6-speed Automatic
Power: 110kW@6200 RPM
Torque: 180Nm@ 4500 RPM
Price from: $31,990+ORC