A motorist is warning others to drive with caution, after having a lucky escape from a crash on SH36, between Tauranga and Rotorua.
The woman, who wants to remain anonymous, says she's thankful to have escaped without injuries after her car ended up down a bank last Tuesday.
The crash is the first of two to have happened on the same corner, within the same week.
"I was on the way home from Rotorua and I always creep through this gorge because I know it's dangerous, I travel on the road every week for work.
"I came round the corner and completely lost control of the car for no reason.
"I think the seal is too smooth on that particular corner. I was only doing about 25kmph, maximum 30."
She says her car ended up more than 10m down the bank and she suspects oil or ice may have been on the road.
"The car came to a standstill and I'm a nurse so I went straight into professional mode. I checked for smoke, turned the engine off, looked for my phone and I saw my purse was out of the car on the right-hand side.
"I looked for a way out, my door wouldn't open so I tried the passenger door, looked down and saw there was a dip into nowhere and then I started to feel anxious but luckily I saw a man climbing down the bank.
"He assessed the situation, told me I was okay and that I had to climb out the back broken window on the left-hand side of the car. He pretty much dragged me up the bank and I asked him to keep me conscious."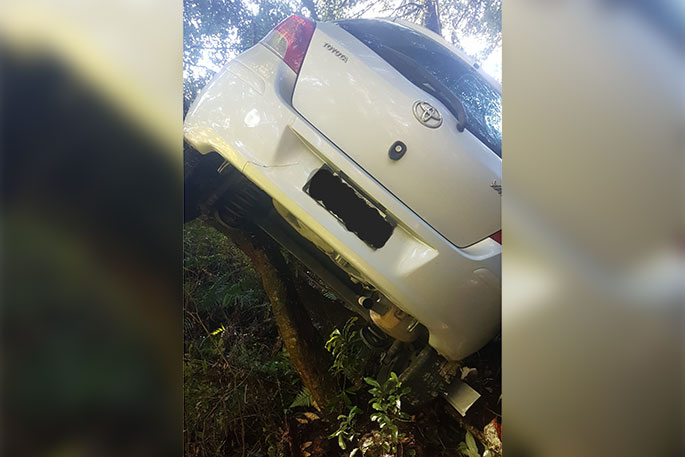 She says she's thankful he had been following behind her at the time of the crash.
"I was thinking on the way through the gorge, on the way down, how sorry I was that he would have to creep behind me for at least another kilometre because I was driving so slowly. But thank god he was there because that would have been it. I was so cold and obviously so shocked.
"There's no reception in that gorge either, so it was hard to call anyone for help."
She says the man immediately took her to hospital where she was assessed for injuries.
"I've got bruising and whiplash but nothing major really. I procrastinated getting into a car the next morning but I knew I had to get back onto the horse.
The incident has been reported to police.
"Just take it really slow if you have to use that road. I was aware of the dangers, driving slowly and this has still happened to me.
"It would be great if barriers could be put in as an extra precaution. There's nowhere to go, it's straight down."