More than 500 people gathered at Wairoa River Reserve on Sunday to protest the lack of safety on State Highway 2.
The protest was run by Fix the Bloody Road group with the main reason behind it to gather publicity and awareness that the road between Katikati and Tauranga needs fixing.
The protest couldn't have come soon enough as nine people have died on Bay of Plenty and Waikato roads within the past two weeks including Steven Anthony Hart who died after his vehicle and a truck were involved in a fiery crash on SH2 near Katikati last Monday.
Organiser Andrew Hollis says he's not sure exactly how many people turned up to march across the bridge but there was enough people to fill one whole lane from one end of the bridge to another.
"The people that understand what we were trying to do were there. The community that was there, the ones affected by incidents on the road that could be prevented with a median barrier for example those people were there. They were out there with a cause and were determined to get something done."
Andrew also attended the SH2 public meeting held by Todd Muller at the Omokoroa Settler's Hall and says it got a bit heated at times.
"Simon Bridges was also there and there was a lot of people saying the whole 'you had nine years to fix the road and you didn't'. He took that one the chin pretty well."
Andrew also says that there were election promises already being made.
"There was a promise made saying that regardless if the current government doesn't do it, we'll do it next election. And they are pushing pretty hard to get it done."
But as Andrew says this has been going on for a while and we've all heard this before.
Andrew continued to say that they as a group has called for a moratorium on new developments and new buildings.
The Fix the Bloody Road group have created an online petition for people to show their support with the housing moratorium.
"We have the petition and then get the council to agree and we will stop new buildings in Tauranga, no new people and then at least we will stop the problem on the road getting worse," says Andrew.
"I expect the petition to get up around the two thousand mark. We are hoping we can keep putting the pressure on this government just to say go. It needs to be done and all the work has been done to get it started.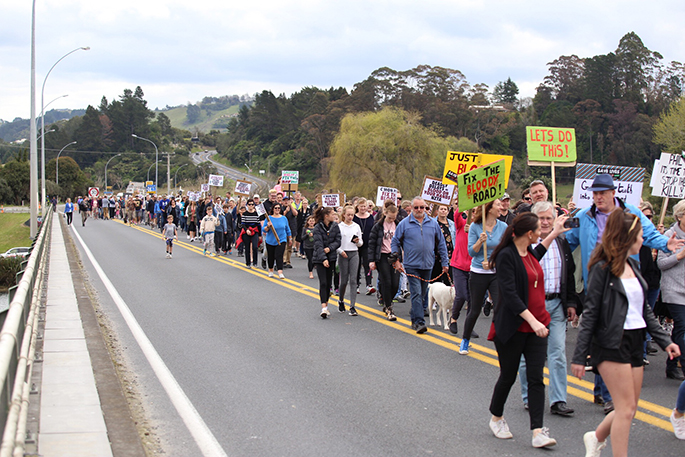 Mayor Garry Webber says that he understands the frustration from the group.
"The moratorium is an intuitive that they have taken which is a direct result of the difficulties we are having with central government on the roading. We just understand where they are coming from and share their frustrations."
If you are wanting to show your support with the group and sign the petition sign here:
There are currently 363 people who have signed the petition.