A petition for moratorium of future housing developments in the Western Bay/Tauranga area has received just shy of 2500 signatures.
The Fix the Bloody Road petition closed on November 5.
"The reason for the petition is to maintain public pressure on the district, city and regional councils for them to send a unified message to central government that it isn't acceptable to keep expecting developers to create more housing without essential infrastructure support," says spokesperson for the Fix the Bloody Road, Matthew Farrell.
"It isn't a question of being anti-development or anti-growth, in fact, it's about making sure the voice of locals is heard on the need for roading and indeed schooling to support one of New Zealand's growth capitals for GDP, population and of course the port."
Now that the petition has been submitted, all there is left to do for the group is wait.
"We expect to hear in December what the outcome is of the Transport Agency's revaluation work on all 16 projects on 12 North Island corridors," says Matthew.
"We have been told that Waihi-Tauranga is a top three priority alongside Whangarei-Port and Otaki-Levin. Once all the evaluations are complete, we expect to see some funding and timelines announced before Christmas."
MPs for Coromandel and Bay of Plenty Scott Simpson and Todd Muller say the Labour-led Government is choosing to ignore the very real fears locals have for their safety when travelling from Tauranga to Katikati by not upgrading the route to four lanes.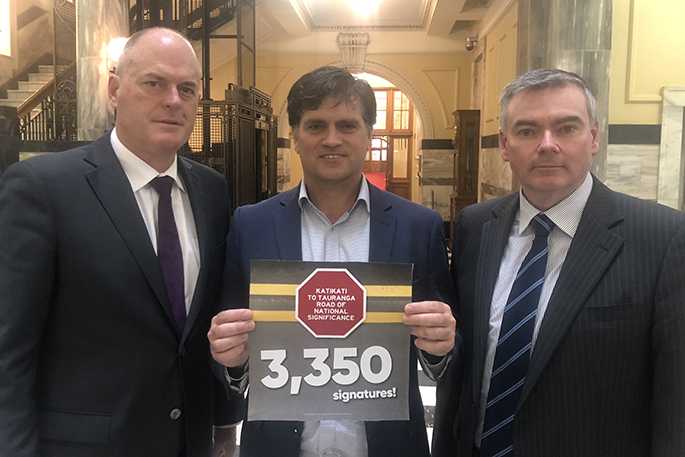 "In 2016, then Minister of Transport Simon Bridges committed $520 million to build the Tauranga Northern Link. That project was going to be a completely upgraded four-lane highway and would have been underway by now, if this government hadn't slashed highway funding," says Scott.
"The Bay is booming. We want to see the government commit to the infrastructure required to support growth and jobs. Unfortunately, Transport Minister Phil Twyford seems unaware that there is life south of the Bombay hills and is taking an Auckland-centric approach," says Todd.
"This is just one of many examples of the government stripping funding away from regional New Zealand and feeding it back to Auckland, specifically for Mr Twyford's pet tram project.
"Regional New Zealand deserves better, and our communities deserve better.
"Under National construction would have begun on the TNL last month, but this government can't even give us a start date."
Matthew says he has received a lot of feedback regarding this issue, with him saying that they still seem to be encountering a hard-core of people who feel the road does not need upgrading, and that the only problem is dangerous driving.
Matthew has this to say to those people:
"All drivers and passengers deserve better protection from careless drivers, and a roading system designed to cope with increased traffic projections of the future. More houses being built for the next 30 years and will need long-term roading solutions starting now.
"We welcome the positive news that the TNL is now regarded as a 'certainty' by NZTA. I'm just asking for some timelines and spending commitments so the good people doing this contracting work can make a start of improving conditions for you and me, our neighbours and their families, and try to get a head start on the next generation.
"I don't think you should die, because someone else doesn't drive responsibly. I'm hoping for you and your friends to be protected from the head-on crashes we don't cause or have time to avoid. Your safety matters."
"Some people are just too stupid to change their behaviour. Innocent people get hurt, and emergency service workers and volunteers have to clean up the horrible mess. It's wrong.
"I'm not making excuses for dangerous driving. I'm asking for our community to be protected from hazardous drivers, with basic road engineering used all over the world. It is about dangerous driving. Speed, alcohol, drugs, inattention/distraction, impatience, poor decision making. There are the occasional medical events and rare mechanical failures, but it doesn't matter.
"A high-speed road needs safety features to protect oncoming innocent drivers and it needs to be able to cope with the typical amount of daily traffic expected in future.
"I spoke to a woman on the weekend who is about to have her leg amputated as a result of another driver falling asleep and taking her out in a head-on at Apata. Not her fault.
"A road with modern safety measures could have prevented her pain and loss. A speed reduction is coming soon. The first positive step. Motorists on the Apata Curves and Te Puna Stream to Loop Road sections of State Highway 2 are eight times more likely to have an accident than those on a typical stretch of highway elsewhere in the country.
"A median barrier right there would have stopped the tired driver from removing her ability to walk on those legs. It's known to be a deadly section. It's obviously not the woman's fault. You can't 'blame a road' either, but you can build a safer road if there are repeated severe and fatal accidents in the same place.
"Sadly she wasn't on the TEL or Takitimu Drive when he fell asleep opposite her. She was on SH2 which has been under-invested in for years."