During the years, Sideline Sid's choice in cars has been about practicality and economy rather than sporty lines. His first couple of vehicles were cheap buys, dictated by lack of money. While later in life, with a growing family, it was station wagons all the way.
Today, it is more likely to be economy driving my choice of motoring, with a small mortgage almost required for each top-up at the petrol station.
However, in my early 20s, Sid did lash out to buy a car that had a touch of style about it when he splashed out on a rakish-looking Ford Anglia 105E. The Anglia 105E, ranked alongside the Mark1 and 2 Zephyrs in class in New Zealand, were great for attracting young ladies.
Fiercely British, the first patriotically-named Anglia were launched soon after Britain declared war on Germany in September 1939. The first Anglia was aimed at the cheap end of the market with few features; and most were painted in Ford black. In 1953, Ford released the 100E. It was a completely new car; its style following the example of the larger Ford Consul introduced two years earlier.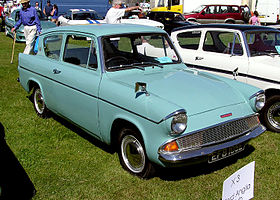 Ford Anglia 105E.
The fourth version of the Ford Anglia was produced in 1959 and became available in New Zealand in 1960. Wikipedia tells us the 105E was a completely new design, with its American-influenced style, including a sweeping nose line. On deluxe versions (such as Sideline Sid's), was a full-width slanted grille between prominent 'eye' headlights. The car also sported a backward-slated rear window (so it would remain clear in rain according to the sales blurb), and muted rear tail fins.
The new style was matched by a new engine, something the smaller Ford vehicles had needed for some time. A 997cc over-head valve straight four gave much improved acceleration; although seems sluggish by today's standards.
Also new for a British Ford, was a four speed manual gearbox with synchromesh on the top three gears. In 1962, an all-synchromesh box became the norm of the 1198cc powered Anglias. The new Anglia 105E was road-tested to have a top speed 118 km/h and fuel consumption of 6.86 litres/100km, which is pretty inefficient when matched against today's town and around cars.
While Sideline Sid enjoyed his Ford Anglia motoring days, his two-door version became impractical with marriage and the arrival of a young family, and his pride and joy was traded in for a more practical four-door Singer Gazelle.
The Anglia 105E's huge commercial success eventually declined, being overshadowed by the success of the Ford Cortina. Only a few surviving Anglia 105Es are seen on the roads of our country today.