Imagination is a great thing. The instructions for Sideline Sid's latest vehicle review were to go to Ebbett Holden on Cameron Rd to take a Colorado truck out for a road test.

With visions of a workhorse, the reality was a heavy-hitting utility vehicle with class and genuine flair.
We received a real treat when the sales team at Ebbett Holden Tauranga gave us a Colorado Crew Cab LTZ 4x4 with loads of added extras to road test. The Colorado LTZ hit us between the eyes with its vivid Orange Rock colour, blacked out chrome, 20 inch alloy wheels and black checkerboard deck cover – and did I mention the snorkel beside the driver's door?

Make no mistake this is a serious vehicle that delivers a massive 500NM of torque and an unbeaten 3.5 tonne towing performance. There is enough grunt to take on any challenge – and when the going gets tough the TSC (Trailer Sway Control) HSA (Hill Start Assist) and DCS (Decent Control System)gets you home every time.

Throw any towing challenge you like at the Colorado LTZ 4x4 and it responds in spades. Whether it's to pull a digger to a work site or take your big boat to the myriad of rugged of fishing spots around the country, the Colorado LTZ answers the call of duty.

First impressions of the double-cab vehicle, with a huge deck, suggest it is perfect for a trip with mates to the bush or ocean and ideal for a family with long distance travel aspirations.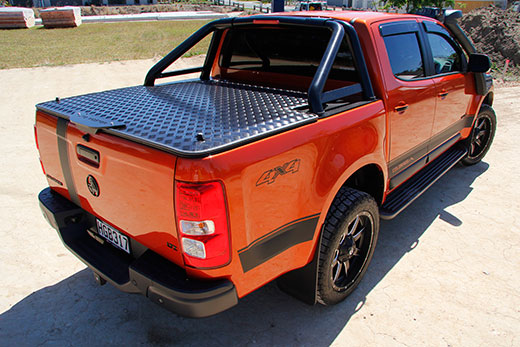 The most critical cargo of the Colorado LTZ is the driver and passengers, with the Holden 4x4s engineered to help avoid trouble and surround you with strength.
The Colorado vehicles have a super tough body and frame constructed with high strength steel, with a safety cell giving maximum protection in the event of frontal or side collision.

While today's Holden vehicles come with all the usual bells and whistles of BringGo Navigation, Bluetooth streaming and smartphone app integration, the Colorado 4x4s up the ante with some additional extras.

The Siri Eyes Free has voice command capabilities, which allow one to call people, select and play music and hear, and compose a text message, which is just like having a PA on-board with the driver.

The Pandora Internet Radio allows you to create your own personal station based on your favourite songs, artists or music types, with Pandora even suggesting new artists and songs based upon your personal preferences.

Tune-In Radio lets you connect worldwide with 70,000 live radio stations and two million on demand programmes.

However it is a number of simple features that really appealed to the reviewer. Touch-screen radio tuning made changing stations on the go easy and simple, and the blue-light speedometer right in the middle of the dashboard makes for no excuses in picking up a speeding ticket. Also having the air-con at the touch of a button helps with stress-free driving.

With the Colorado 4x4s being high off the ground, the addition of a good old fashioned running board makes getting into the driver's hot seat particularly easy, even for old fellas like Sideline Sid.

Out on the open road, the Colorado LTZ had plenty of tow from the 2.8 diesel engine, with the six-speed automatic transmission responding to any challenge thrown its way. The Descent Control System gives a smooth and controlled hill descent when used off-road, while the Hill Start Assist holds the Colorado 4x4 stationary on steep hills before the brakes are released.

Around town, the rear view camera comes into its own when reversing into a tight parking space, in tandem with the rear park assist – which gives out with an audible warning when getting close to another vehicle or solid object.
The Colorado LTZ 4x4 auto has a recommended retail price of $61,990.

SPECS

Colorado Crew Cab LTZ 4x4

Engine: double overhead cam 4-cylinder
Engine Capacity: 2776cc
Fuel: Diesel
Maximum Power: 147 @ 3600rpm
Maximum Torque: 500 @ 2000rpm
Transmission: 6-speed automatic
Brakes: front- disc, rear – drum brakes
Colorado LTZ 4x4 Auto (RRP) $61,990
Contact: Ebbett Holden (Tauranga)
Phone 07 578 2843.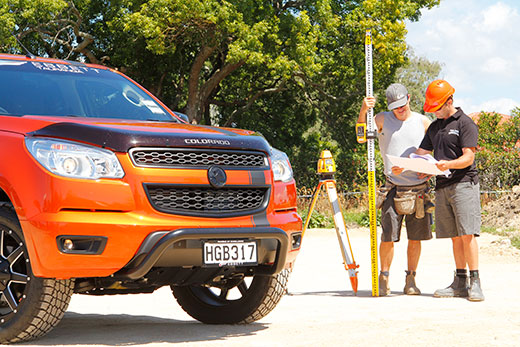 Damon Beckett Builders.