Sideline Sid couldn't wait to get behind the wheel of a BMW for the first time when given his latest Bay Driver mission – to put a BMW 4 Series 428i Coupe M Sport through its paces.

What he found is a sports car lurking within the framework of a BMW luxury sedan.



Knowing little about the history of BMW, a little research revealed the Baverische Motoren Werke – or translated into English, the Bavarian Motor Works – has manufactured cars and engines in Germany since 1916. BMW is one of the 'German Big Three' luxury automakers along with Audi and Mercedes-Benz, which are the three top-selling luxury automakers in the world.

What Sideline Sid wasn't prepared for is the marriage of absolute luxury with genuine sports car performance.

The BMW 4 Series 428i we took out and about on some of the highways and byways of the Western Bay of Plenty, dazzled in an Alpine White paint finish. The marketing brochure suggests the BMW 4 Series has dynamism that moves – even when standing still. What it does have is an athletic-looking style that suggests a vehicle that with pace to burn. The entire vehicle design is a testament to the BMW EfficentDynamics philosophy that reduces air resistance and fuel consumption.

Lifting the bonnet revealed a lithe beast of a BMW Twin Power Turbo petrol engine that promised to deliver power and uncompromising acceleration. Taking the BMW Coupe out on the toll road to Hamilton, we found extremely responsive acceleration that would blast the cobwebs away if unleashed to its maximum output.

Exceedingly receptive steering and outstanding braking make the car a dream to drive. Electric power steering makes bumps in the road non-existent, while the BMW 428i shifts gears without noticing courtesy of the eight-speed automatic transmission.

The only small irritation for Sideline Sid was getting into the low-slung two-door coupe, with the car's design better-suited to the young and adventurous rather than the old and creaky. However, once entrenched in the driver's seat, all was forgiven with another touch of BMW luxury. The BMW 428i is set off with the Black Dakota leather interior, with the racing car-like front seats incredibly comfortable and with ability to re-position back, forward and upwards at the touch of a button.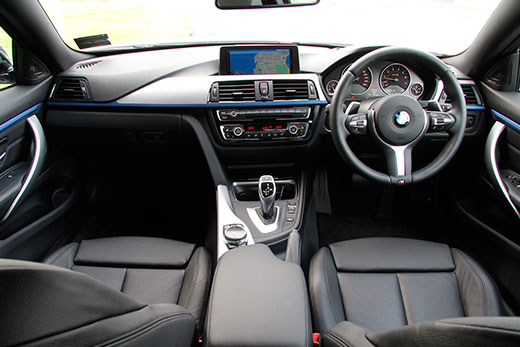 A state-of-the-art information screen contains multi-media functions, radio, telephone and navigation aids. However, it is the BMW Head-Up display that blew us away, with its practicality out on the road. Seemingly sitting out in front of the bonnet, was images of a speedometer accompanied by a maximum allowable speed road sign, which picked up information from the external road signage. The display's prominent position makes it easy to use, while allowing other driving information to be projected into the driver's line of sight.

The big features of the BMW 428i are safety along with economy and efficiency. The Active Cruise Control comes with stop and go function, which includes radar-based collision warning and light braking function; and it's particularly convenient when driving in city traffic. In addition, the system measures the distance to the vehicles in front and maintains a pre-selected distance. BMW Active Protection is a preventive occupant safety system whereby if a critical situation arises on the road, the front safety belts are reversibly pretensioned and the side windows closed.

Fuel efficiency is aided by a number of features in the BMW 428i. With a combined fuel consumption 6.3 litres per 100km, the BMW TwinPower Turbo Technology plays a big part in significantly reducing fuel consumption, while at the same time boosting power output across a wide range of engine speeds. The optimum gear shift indicator and brake energy regeneration play their part in the making the BME 428i a very efficient converter of petrol to power on the road.

However, it is a number of nifty characteristics that make the BMW 4 Series 428i stand out in its class. Starting with keyless entry and start, which however created a small problem for the car reviewer when he placed the entry technology on the divider between the two front seats, only to have it fly under the front passenger seat. If you ever had to stand in front of your car returning from the shops with goods in both hands and you wanted to open the boot – the BMW 428i solution is contactless opening of the boot courtesy of the vehicle entry controller. The camera systems make backing a breeze, with the iDrive Touch controller giving you convenient control of the iDrive system with one hand.

Car reviewers tend to use plenty of pretty and descriptive words and wax lyrical about the vehicle of their current attention. Sideline Sid believes there is only one true indicator of your appreciation of the vehicle under review – would you buy one. In the case of the BMW 4 Series 428i Coupe M Sport, it has been added to the bucket list as my dream car. Hopefully, one day soon, we'll be off to Coombes Johnston on Hewlett Rd in Mount Maunganui to put our name down for a new BMW 4 Series 428i Coupe M Sport.

SPECS

BMW 4 Series 428i Coupe M Sport
Engine: 2 litre twin turbo petrol
Transmission: Eight-speed automatic
Braking: M Sport braking system
Extra Features: BMW Head Up display
Price: $108,700
Contact: Coombes Johnston
07 575 5280