There's a famous Indian saying: "There is no such thing as 'part-Cherokee'. Either you're Cherokee or you're not. It isn't the quantity of Cherokee blood in your veins that is important, but the quality of it…your pride in it…".

We don't think Chief Jim of the North Alabama Cherokee Tribe was actually talking about the latest Jeep, but his words are eerily fitting, considering the mixed blood of the 2014 Cherokee.

Steve Glover of Steve's Marine Supplies tries out the load space of the all new 2014 Jeep Cherokee.

Howls of indignation billowed from the purist Jeep camp when word spread that Chrysler's shotgun marriage to the crazed Italians at Fiat had spawned a wild child – the iconic Cherokee taking on a radical, new, sleek and funky European styling and Italian refinement of the drive train. Almost as much outcry as the day Harley Davidson popped out an electric motorbike.

Some of the traditionalist Jeep fraternity complained bitterly that the white man 'speaks with forked tongue', when trying to pass off the stylish, curvaceous and slippery new design as a real Jeep.

After all, the original four-wheel-drives that helped win WWII were boxes with wheels on the corners, with all the aerodynamic qualities of a flying brick, and drive systems known less for their finesse rather than bulletproof reliability in extreme terrain.

And so it was that the Jeep Cherokee, a statelier sibling to the Wrangler, still had some fairly jaunty corners, proudly "robust" mechanics and that 'Go anywhere' badge of honour.
As a previous owners of a Wrangler and Cherokee, we were keen to see the result of the American-Italian mixed blood breeding programme. That chance came with the first batch of new-look Cherokee at Farmer AutoVillage in Hewletts Rd.

The range starts from the $45,000 mark with four petrol variants, from the Sport with a 2.4L four-cylinder engine; up to the Trailhawk, the full-on, off-road version with 3.2L V6 and a bevy of trailblazing bits. Diesel options are also due later in the year in 2L turbo.

All the new Cherokees have nine-speed auto with Electronic Range Select; halogen projector headlamps and swanky "signature" daytime running LEDs, which help give it that swept-back new look. Electronic stability control and roll mitigation, hill start and trailer sway control are standard across the range.

Uncle Jeep's care package

They're all five-star safety rated, with seven airbags – front and rear side curtain and front seat-mounted side air bags – and front seat active head restraints.

The media centre/electronics provisions are impressive with storage compartments featuring power connections; touch screen stereo, voice command and the works.
Our test vehicle is the Longitude with 3.2L Pentastar V6, Active Drive 4WD system, which on top of all those features listed also boasts dual zone auto temperature control, body colour mirrors and door handles, and a stack of other refinements. The fold-flat passenger seat with in-seat storage seemed a very useful feature.

Once recovered from the awe of the striking, almost aggressive outward styling, I couldn't wait to get behind the wheel. Seated at the controls, the leather-wrapped steering wheel and gear knob feel good. The fabric seats are snug and encompassing; the best feel and adjustability of any of the mid-sized SUVs we've reviewed lately.

I wouldn't rush into leather again; there's something reassuring about your lower regions firmly cocooned and not sliding off the rawhide.

Controls and instruments were perfectly laid out and once we'd absorbed the sheer volume of information on hand, we realised it was all very logical, easy-to-find and use. It became a voyage of discovery.

Fascination soon sets in, as I re-discover features our older Cherokee had, such as constant tyre pressure readouts and every conceivable fuel management piece of data, plus many new delights.

With controls at my fingertip on the steering wheel, after a few days I realise the Cherokee is an incredibly driver-friendly machine.

Eager to get out on the road and try this new-fangled nine-speed auto, which I admit to being a bit sceptical about, we took a quiet cruise around town to settle in.
The Pentastar is lovely and smooth, quiet and has a tonne of pep on hand. The gear changes are virtually indiscernible, but you know there's a lot going on… a lot more than with a five or six-speed box.

Out on the expressway and a chance to give it a squirt, and the V6 auto is simply stunning. The wolf comes out of its sheep disguise, with a lovely snarl and smooth delivery of power. The Longitude can really boogie, and as a tow vehicle would have plenty of grunt.

The Pentastar is truly impressive, very willing power on hand and a wide power band. It's a huge improvement on the old in-line six that colours our thinking from the earlier times of Cherokee and Wrangler. (Although I still secretly hanker for the rumble of the Hemi). So too, is the fuel economy with the new generation petrol engines.

However, it was the handling and cornering that really surprised. This, after all, is a Jeep, right? Corners are those annoying bendy bits that need going around, to get on with the straights. Not so, the new Cherokee. The cornering was delightful, balanced and even with a bit of jandal, felt well-controlled.

Nine stage auto

There's a slight acknowledgement of the gear change down when coming out of a bend or attacking a hill, when no doubt the Cherokee is dropping down not one gear but probably two or three in quick succession. The upshot of this is the vehicle seems to always be in exactly the right gear for optimum delivery of power.

We experimented with the manual shifter and found it very smooth; and it was great to be able to select a perfect gear – it seemed like a half-gear – for the task. This mid-size SUV would be an ideal wagon for the Bay and Coromandel, and I look forward to the chance to try that nine-speed gear range over Pumpkin Hill one day.

Interestingly the Cherokee didn't seem to often get into top gear in auto, although it was quite happy to push along the highway in ninth in manual.

The highway cruising and the bend negotiation was surefooted and predictable, again, one of the best handling experiences of any of the SUVs we've reviewed recently.

Claire was quite taken with the interior of the Longitude and liked the classy stitching on the dashboard leather trim and commented on the feeling of "safe and solid" with doors that shut with a reassuring clunk.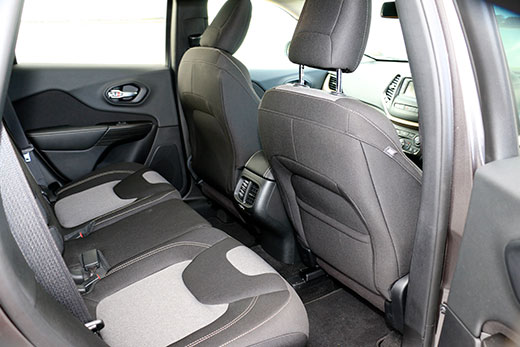 She remarked on the perception of sure-footed handling and also approved of the V6 growl when it meant business.

Being a mid-sized SUV it was easy to park and manoeuvre in town, tight spots, narrow tracks and driveways. The lock was sufficiently tight to swing it around in some close places.

If I had to find a fault with this wagon it would the same complaint I have with so many of the new generation SUVs. Rear visibility. Reversing and backing trailers is hampered by the high rear doors and tailgates that obstruct the view. It seems visibility is sacrificed for the up-swept rear-end fashion designs. It's mitigated partly by rear view cameras and the proximity warning systems, but it's still not the same as the good old driver eyeball system.

Bending the light

The headlamp set-up is a very cool arrangement. The main lamps are lower down in the array, with fog lamps lower again, and very clever cornering lights that automatically follow the steering direction as you're negotiating tight bends. We were taken aback at first, when pulling into the driveway, to find the letterbox and the gateposts lit up like a Christmas tree. A brilliant feature on dark, twisty trails as well as tight city lanes.

So has Chrysler managed to swish up the Cherokee without losing the essence of quality Jeep bloodlines? Millions of dyed-in-the-wool Jeepsters will hate this, but I think they have. Proof will be in the sales, and I predict Chrysler will reap the benefits of nailing a market gap with the new-look Cherokee.

After all, if you really yearn for unadulterated Jeepness, there's always the iconic Wrangler – resplendent in stubborn squareness, flying brick aerodynamics, round headlights (as they should be) and the famous seven-slot grille. And, you can still see out the back of it!

Jeep has managed to completely re-design the Cherokee to better match the market demands for mod looks, smooth power, economy, off-road capability and on-road performance, while keeping enough of the Jeep heritage pumping in the background to hark back to Chief Jim's ideals.

The new Cherokee probably shouldn't have been called that, for it resembles little of the former models. But beneath the clever and sleek European looks and performance is still a core philosophy. Deep down, you know you're driving a Jeep.

Thanks to Farmer AutoVillage and Steve's Marine Supplies for the stunt work.

brian@thesun.co.nz

"There is no such thing as 'part-Cherokee.' Either you're Cherokee or you're not. It isn't the quantity of Cherokee blood in your veins that is important, but the quality of it . . . your pride in it. I have seen full-bloods who have virtually no idea of the great legacy entrusted to their care. Yet, I have seen people with as little as 1/500th blood quantum who inspire the spirits of their ancestors because they make being Cherokee a proud part of a their everyday life."

~Jim Pell: Principal Chief of the
North Alabama Cherokee Tribe ~