It's love. First sight, sound, smell, internet instant message. It comes in all shapes and sizes, and I've found mine in love at first drive.

The compact Range Rover has 'evoqued' a passion in me, and I want one! If everyone in the Bay sends me a dollar, you can make love happen. Anything spare will, of course, go to charity.

Location courtesy of Oceanside Homes Lockwood's Papamoa showhome at 26 Tatahi Cove.

Range Rovers throughout history have been large, comfortable workhorses. A kind of softer, more prestige version of the usual Series Land Rover/Defender style vehicles, but still a workhorse, complete with hose-down interiors.

My dad had one of the originals, from the late 70s if I recall. I remember it being very smooth and comfortable, and breaking down a fair bit – as did most British cars from the 70s. Then came a new dawn, in the mid-1990s, nearly 25 years after the original was released. The Range Rover became a status symbol with the release of the new Range Rover – or P38A to its friends. The early 2000s saw the birth of bling, with every premiership footballer and his WAG to wealthy oil barons owning one, to the modern day with sharp good looks, a little bit of tasteful bling and undeniable quality.

This may sound like a chequered history, from being one of the most unreliable cars in the world, to the modern day choice for reliable, quality SUV motoring, but one thing has always been consistent. No matter what, Land Rover has always made a true SUV.
None of this soft, soccer mum kind of thing; Range Rovers can pretty much go anywhere. Their ability off road is second to none for this class of vehicle, and once you've finished mud plugging, you just hose it off and turn up to the finest restaurant in town.

So what about the baby of the range? The Evoque is a compact SUV, with modest size engines and slightly lower ride height than its larger siblings. Some are even 2WD only, although they may not be available in NZ. Has Land Rover gone soft? Nope. Even the 2WD is a capable off-roader. Granted it won't get you as far as the 4x4, but it still outstrips any of its competition in the same footing. Of course, you probably won't see an Evoque out in the paddocks, so just as well it's such a good car around town, on the open road, or taking pride of place outside a lovely home in the 'burbs.

Different, unusual ...

The Evoque is a little more understated than the Sport or the full blown Range Rover. It's different, unusual, and that's what makes it stand out. Its high ride position, squat roof line and exceptional styling make this like nothing else on the road. Our test model, the Si4 Evoque Dynamic, came with optional 20" wheels to add to the drama; it looks amazing.

Out on the road, it sails along effortlessly. The 2.0 Si4 turbo charged petrol engine has zero turbo lag and only the faintest sound effects, just to let you know it's there. It can even pull 0-100km/h in just 7.6 seconds, and has a blistering top speed of 217 km/h. With that kind of power and speed, coupled with the 4WD system, you'd expect it to chew through the gas too. Nope! 7.8l/100km combined average fuel consumption.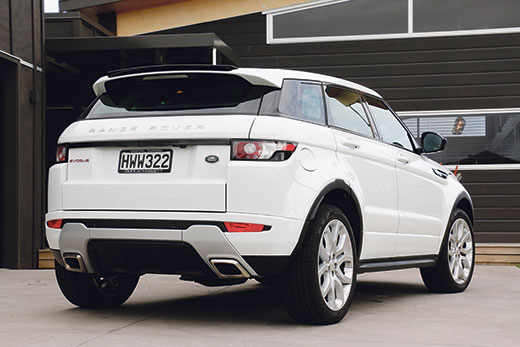 Beautiful detailing

Internally you won't be disappointed either. Our test version came with the Oxford leather seats, beautifully detailed and just a delight to sit in. The dash and centre console layout is very traditional, with the Land Rover 'slope', but simplistic, easy to navigate and undeniably quality. When you fire up the engine, the gear rotator ceremoniously rises up from the centre console. Effortlessly rotate to the gear you want, and you're away.

There's no guesswork in driving this car, and I love that. All the technology you could need is here, and you can make use of all of it. The in-dash 5" touch screen opens up a world of options, to change a multitude of settings, or just tune the radio. The configuration options, such as being able to change the ambient lighting in the cabin, to the GPS are simple to use. Climate controlled front seats are available, wade sensing to let you know how deep you can drive through water, down to the usual phone pairing etc, and so many others in between. Out test model was also optioned with a powered tailgate, a must for the vertically challenged.

I want one

I could go on and on about the Evoque. It was a total pleasure to drive, it's a stunner to look at, and I really do want one, so please give generously to my cause. If you want one too, there's a raft of options to make it uniquely yours. The range of colours, interior options, and accessories is vast. The brochure is more like a weighty catalogue from the finest retailer, packed with items to refine to your taste and needs. You won't believe some of the options available. I'll leave you to discover those yourself; grab one from Duncan and Ebbett on Hewletts road today.

Prices in the available range start from $73,000, and all come as 4x4 models. Although the 2WD model is featured in the brochure, it does not appear to be available in NZ at this time. A choice of two diesel and one 2.0ltr turbo-charged petrol engine are available. When you consider that the pricing of this Range Rover is akin to some of the Japanese/Korean et al SUV's on the market, why wouldn't you go Range Rover?

SPECS

Range Rover Evoque Dynamic Si4

Engine: 4-cylinder, turbo-charged petrol
Displacement: 1999cc 177 kW
Transmission: 9 speed Adaptive Automatic
Drive System: 4-wheel-drive
Price From: $94,000
Dealer/contacts: Duncan & Ebbett,
115 Hewletts Road, Mount Maunganui.
Ph 07 928 1280
www.duncanandebbett.co.nz