The name Everest will invoke significant and special nostalgic feelings amongst Kiwi audiences in particular – with our own local boy, Sir Edmund Hillary and Nepali Indian, Tenzing Norgay, conquering the world's tallest peak on May 29, 1953, climbing the South Col route.

That's a pretty gutsy name for vehicle model here in New Zealand – given the marketing on TV, with Sir Ed's voice-over and quotes.

Then it reminds me of that line in the movie 'Top Gun' when the Aircraft Carrier's Captain says to a young hotshot pilot, Maverick: "Your ego's writing cheques your body can't cash".

Is this Ford Everest going to live up to its name and the psychological marketing messages? Is the marketing promoting something it won't deliver?

Sales of this Ford model will be global, with the vehicles imported to New Zealand being manufactured in Thailand.

The Everest, Ford's most capable SUV, has been clearly designed to compete with other brands in the premium level seven-seat 4WD and all-wheel drive market segment.
Everest will somewhat take over from the seven-seater Ford Territory – which has been a good stable seller since 2009.

The Sport Utility Vehicle market is getting more competitive, and is a real growth area in the NZ motoring scene.

Families are starting to opt for vehicles which are much more than sedate family wagons. These vehicles need room to cart friends, sporting/recreational gear, and also be easy to drive around town with all the high tech innovations we will very soon come to expect as standard.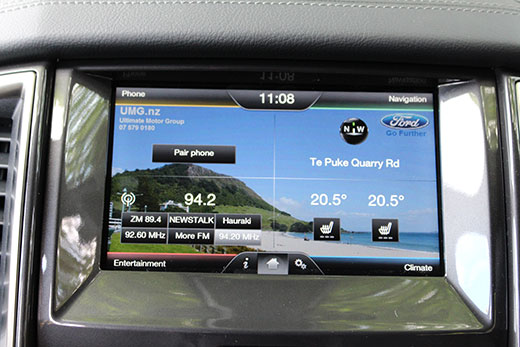 The Everest is firmly top of that Ford SUV range – touting itself as powerful, capable and refined – designed with style, function and technology in mind.

Everest can take on premium SUVs in their payload and towing capabilities as well with a 3000kg towing capacity and up to 643kg cargo payload.

It has to be said that it is a fine looking machine – both inside and out. The simple lines can be deceptively alluring, but loses nothing of its 'masculinity'. Young Maverick may well approve.

This vehicle, with its $88,000-plus price tag, probably won't be the first choice for younger families. People buying this will usually have some free dollars to spend, or chose this model as their company car.

If you're going out to conquest at business meetings, the rugged outdoors, or just a long-drive out of town in comfort, then Everest will easily tick all those boxes.

At the dealership, just on looks alone, it was quite striking. Having to grab a handle to make it easier to haul myself up and into the driver's seat was a bit exciting – I felt like this was the start of an adventure.

As soon as I got in, I felt pretty damn impressed. Everything on the dash looked where it should be – and you could even personalise it. The ability to load your own picture as a background image on the digital display is a nice touch.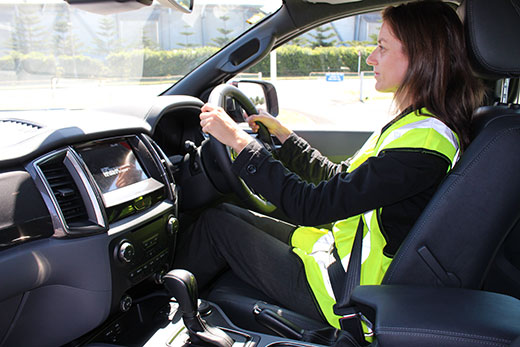 Shortly after while navigating the heavy city traffic, I realised just how high up I was – most other vehicles on the road were well under my commanding viewpoint. A bit like being in a cockpit – surveying the scene from high above. It may have something to do with the vehicle's 225mm ground clearance and up to 800mm wading depth.

With all the technology on board you have the added peace of mind that the Everest is doing a lot of the thinking for you. But where to take this land-loving vehicle for a test drive, I asked myself.

Since it was made for scaling the heights, I thought the hill roads near Te Puke would be as good a place as any. Luckily for me, some fresh metal had just been laid on a winding uphill country road – so new that it hadn't even been graded. I met the grader team shortly afterward!

The Everest was simply a pleasure. Despite the loose surface, it just got on with the job – no fuss, no problem – just onward. I felt totally in control and had confidence that the vehicle was doing all the hard work for me.

For those who really want to take advantage of the Everest's true off-road ruggedness, the electronic locking rear differential (eLRD) is engaged manually by pushing a button, or automatically via the Terrain Management System.

The diff locks gives optimal driving on uneven surfaces and is used mostly where there's excessive axle travel or where apportioning the drive to both rear wheels is important – such as steep bumpy inclines, sand and loose surfaces where it's difficult to keep the rear wheels on the ground at all times.

Using smart technology, the intelligent Torque on Demand, automatically transfers torque between front and rear wheels to provide maximum traction on-road and off-road. While driving, you can move between 4x4 high and low range by simply pressing a button.

I can imagine that going out into the wilderness – miles from anywhere – you would feel confident in this beast. And as long as you weren't a total idiot, you'd be rather safe in terrain you hadn't much former experience in.

The 'hill launch assist' simulates and handbrake start to prevent the vehicle from rolling. The 'hill descent control' regulates downhill speed in steep off-road conditions by automatically applying the brakes.

You're in control of the steering wheel, but it's great to know that so much technology is being employed to make your steep and tricky descents that much easier.

The steering and handling was sensitive. It was only later, while driving back in the city, that I "slightly" over-steered round a corner and realised just how responsive the steering is, however, at all times the vehicle felt stable – leaving me feeling comfortable and confident. Rule number one – respect the power at your fingertips!

Lots of people will dream of owning a Ford Everest – it's going to be a status symbol for sure.

It's got everything an adventure seeking driver would want. Those whole scale life heights and have a passion for excellence, this is one vehicle that would have to be considered.

The Everest won't be for everybody – but it will be a winner for those who require that special something that stands out from the ordinary.

SPECS

Ford Everest Titanium
Engine: 3.2L TDCi Duratorq diesel
Fuel Economy: 8.5 litres per 100km
Engine Capacity: 3198 CC
Maximum Power: 143kW @3000 rpm
Maximum Torque: 470Nm @ 1750 – 2500 rpm
Transmission: 6-speed automatic
Drive: Four Wheel Drive
Price: $88,000
Contact: Ultimate Motor Group, Hewletts Rd, Mount Maunganui.
Phone 07 579 0180.