For more than a few years, I have been enticed by the Mitsubishi campaign surrounding the various Lancer releases.

You'll remember the ads: Get a brand new Mitsi for mid-$20,000 and a 10-year warrantee.


It seemed to be an exceptional entry level price, with a very reassuring dealer warrantee and service program.

What struck me about these advertisements was the fact that this wasn't just a micro shopping basket – it was the GSR! The rally inspired, everyman's Mitsi.

Heading down Cameron Road past Bay City Mitsubishi and you could be forgiven for doing a double take at what appears to be a high-spec rally car for less than $30k. Once a part of the high-performance Lancer Evo (or Evolution) sports sedan model line-up, the Mitsubishi GSR is now positioned in the middle of the Lancer range and is proving to be a very affordable option for those who appreciate the subtle lines of rally car design.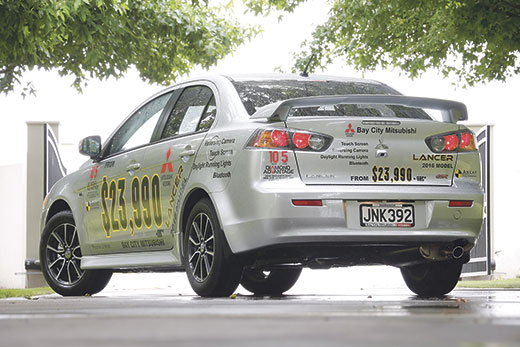 New year, new look
Aaron Chatfield, dealer principal for Bay City Mitsubishi, has told Bay Driver that "the facelift brings a refreshing update on the recognisable Lancer front across our entire range".

"The new dual split grille frame design, along with chrome highlights and sharp front splitter, unifies the front bumper and grille producing an elegant yet sporty style.

LED daylight running lights, integrated fog lights and more sporty side skirts on the outside have been added across the range giving it the appearance of a luxury
sports car.

"The new range has been given a significant boost to the levels of standard equipment across almost all variants."

Bex Osmond of Instant Effect – Plants, Landscaping and Design, Papamoa, was our Bay Driver this week and, as a self-confessed girl racer, was eager to get behind the wheel when we arrived.

Reaching straight for the stereo controls, it was good to see the late twenty-something had her priorities straight when readying herself for the test drive of a new car and she
was impressed with the six-speaker, full colour touch screen audio system. It complements a new centre console and high-contrast instrument cluster to round out the new interior refresh.


Born to ride
Bex drove us to one of her company's recent projects, a magnificent property west of the city, which she selected as the stage for our Lancer photoshoot.

On the way she commented on the smooth ride offered by the GSR and it wasn't long before she took advantage of the Tiptronic transmission controls like a professional rally driver as we weaved through the windy roads of Oropi.

Upon arriving Bex told us she felt the Lancer's handling was firm and predicable, but most of all "it was also fun".

The new Lancer now comes with an enhanced continuously variable transmission (CVT) as introduced on ASX and Outlander, giving it improved shift feeling and better acceleration. Fuel economy has also been improved on sedan models to a stand-out 7.2L/100km.


Thanks to new hydraulic power steering, the new Lancer handles better than ever. The amount of rally-bred technology that goes into Lancer might seem like overkill, but as you turn into a good sharp corner, or swerve to avoid a sudden hazard, you'll see why Mitsubishi went to all the trouble.

The Lancer is a superb car to drive – its lines encompass speed and performance, yet its drivetrain technology is engineered to be as adept at purring as roaring. Its five-star host of active and passive safety measures are have also been designed to keep you and your loved ones from harm's way.
Specs:
Alloy Wheels
Climate Air Conditioning
Rear Spoiler
Privacy Glass
Fog Lamps
2000cc Engine
Touch Screen Audio
Reversing Camera
Sound System with Steering Wheel Controls
Cruise Control
7.2L/100km Fuel Rating
Daylight running lights
7 Airbags
Active Stability Control
Active Traction Control
iPod Connectivity
Bluetooth
Shoot location supplied by Instant Effect – Plants, Landscaping and Design, 162 Parton Road, Papamoa.