In 2009, Top Gear's Jeremy Clarkson wrote: "The fact is that if you want a sports car, the MX-5 is perfect. Nothing on the road will give you better value. Nothing will give you so much fun. The only reason I'm giving it five stars is because I can't give it 14".

With an accolade like that from arguably the world's top automotive critic, is it any wonder that Ultimate Motor Group's Mazda sales manager Christine Donaldson was on the phone the moment their most anticipated arrival of the year was available for us to review.

"The MX-5 has always been a popular car with New Zealand motorists who enjoy the thrill of driving a sports car on the open road – but this new model really does have the Wow Factor," Christine boasted.

Manufactured by Mazda in Hiroshima, Japan, the MX-5 debuted in 1989 at the Chicago Auto Show. Originally conceived as a small roadster with light weight and minimal mechanical complexity, while being technologically modern and reliable, the MX-5 is conceptually an evolution of small sports roadsters of the 1960s, such as the Triumph Spitfire, Alfa Romeo Spider and the Lotus Elan. However, the 2016 Mazda MX-5 2.0L takes the classic sports car to the next level.

The divine drive

Selecting this week's Bay Driver was a little tricky; I really needed a professional with a penchant for a small two-seater sports car. This week's Bay Driver has a young family, and likes driving large Australian V8 sedans. She's a professional and she looked great behind the wheel of the new MX-5.

Megan Benson is the brand and territory owner for Mike Pero Real Estate in Tauranga. When I pressed her further about her daily drive she told me she's always liked big powerful cars. Damn, I really should do my homework. Too late now.

Classy red

After pointing out that the classy 'soul red' paint job on the MX-5 wasn't 'Mike Pero red' we headed off to put the car through its paces, Jeesh! You're a tough critic Megan, good thing Mazda offers six body colours including Soul Red Metallic (as featured), Ceramic Metallic, Crystal White Pearl Mica, Blue Reflex Mica, Meteor Grey Mica and Jet Black Mica.

On the way to our photo shoot, one of Megan's recently-sold listings in the Mount, she commented: "Going back to a manual is a little strange, but it's actually quite fun".
It comes in automatic too," I told her. "I think I actually prefer the manual. It's got a very short gearbox, and it drives nicely, very smooth," Megan replied. Finally, we're somewhere Megan, we'll make an MX-5 convert out of you yet.

Get ya top off

"I can't wait to get that top down," Megan commented, so we pulled over to read the manual despite being shown how to operate it before we left the dealership. It turns out we didn't need it, Mazda has really refined this process and we found it was remarkably quick and simple to operate the soft top, giving us all the more reason to enjoy some open-air driving. "I could really get used to this," says Megan. I think someone is falling in love.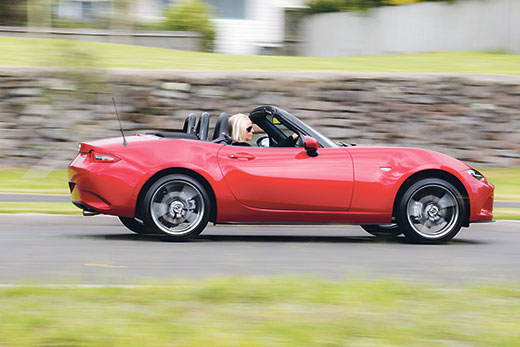 Bigger than it looks

For many buyers, the MX-5 will be their primary mode of transport – not just a weekend toy –and Megan presented the perfect opportunity to see if this particular challenge was possible.

The boot is by anyone's measure pretty small at 130 litres but would easily stow a couple of overnight bags for a weekend away or a grocery shop for a couple or small family.

There is a small lockable box between and behind the two seats, which is handy for tucking away valuables – especially if you've got the top dropped when parked – and two more hidden behind each seat. Megan found these and was sizing them up to stow her laptop.

Mazda has done an excellent job of maximising space for both the driver and the passenger. At 187cm and 100kg, this passenger had his doubts that he'd comfortably fit in the car but those fears were unfounded. There is more than adequate leg room and is sufficient space for arms and elbows to operate the surprisingly normally sized steering wheel, which is also height adjustable.

Key controls such as the pedals, steering wheel and gearshift are perfectly positioned too, enhancing the feeling of the all-new MX-5 being an extension of the driver.

And finally what really stole Megan's heart was the nine-speaker BOSE premium sound system, specially designed for an open-top roadster featuring UltraNearfield speakers in the driver and passenger headrests.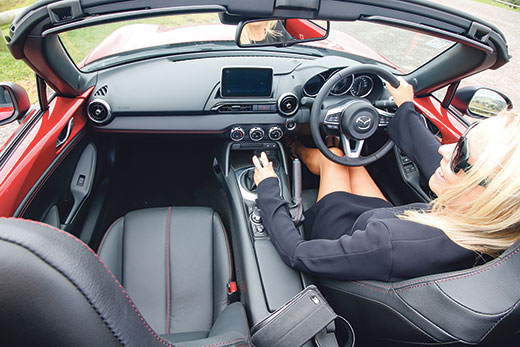 Launching the rocket

After our photo shoot we had to take this red rocket out for a proper spin so we headed for Papamoa. There's something eternally engaging about small rear-drive sports car, where you're virtually sitting on the rear wheels.

The way the 2.0L Sky-Activ engine propels you forward is exhilarating and running costs aren't too bad either considering it sips less than 6.1L/100km due to it being lightest MX-5 since the first generation, and weighing 96kg less than the outgoing model.

The verdict?

So what do you reckon Megan? Time to get out of that V8? "I think so, although I'm not sure my youngest son and my partner will agree on who gets the passenger seat".
Mazda did launch the 1.5L MX-5 last year but were aware there were people who wanted a little extra horsepower and the ease of an auto transmission.

Now with the arrival of the 2.0L and a choice of a six-speed manual or a six-speed auto, New Zealand motorists can now choose the level of sportiness that meets their needs and budget.

SPECS

At a glance
• 2 litre producing 119KW or 200Nm of torque at 4600rpm
• 205/45s on 17" alloys
• Proximity entry and smart start ignition
• 7" inch colour touchscreen
• Sat Nav, trip computer and heated seats
• Blind spot monitoring
• Front and side airbags
• RRP $46,995 manual and $48,495 automatic plus on-road costs

Ultimate Motor Group, 150 Hewletts Rd, Mount Maunganui. Ph: 07-579 0180.