In my line of work I get to drive some pretty amazing cars so it's easy to become a little blasé. But every once in a while something special comes my way and the Mercedes-Benz GLC certainly is something special.

Referred to as a mid-sized SUV, although I'm not sure by whose measure – it is roomier than most Japanese SUVs I've driven, however compared to its big brothers the GLE and GLS I suppose it could be considered mid-sized.


"Prior to this release, Mercedes-Benz didn't really compete in this segment," Ingham-Sears' dealer principal Euan Sears tells us. "However, the GLC changes all that with a vehicle promising to take everything good about our top-selling C-Class and wrap it up in a high-riding SUV."

So many options…as standard

On Friday afternoon we picked up the GLC 250 with a two-litre, four-cylinder, turbo-petrol engine connected to a nine-speed automatic transmission. Yes, I did say 'nine'.
A milestone in transmission technology that facilitates virtually indiscernible gear changes, the feature cuts the noise level and raises ride comfort.

The petrol option represents the mid-point of the GLC range and sits in between two diesels variants. All are pretty generously spec'd as standard (see 'Highlighted Specs as standard'), but the highlight for me was the 360-degree camera view accessed through the dash-mounted screen. This feature is amazing! It actually feels like you're being watched from the heavens, providing a bird's-eye view of the vehicle and its surroundings including obstacles that are below the window line such as kerbs – so no more gutter rash, like what is currently displayed on my own car, with this technology.

Euan kindly loaned us the GLC 250 for an entire weekend – a real treat – so I decided to make the most of it. Saturday morning I packed up the family for a road trip to Ohope Beach where my nephew was competing in a surf carnival. The open road gave me a chance to put the 250's Driver Assistance Plus pack to the test. While Euan had given me a quick overview of the safety equipment when I collected the car, in true Kiwi bloke fashion I nodded politely while not listening as intently as I could have.

Features including active blind spot monitoring with rear cross-traffic alert, adaptive cruise control, autonomous braking and lane-keep assistance – which can provide short periods of hands-free driving – all sounded complicated but were so intuitive and easy to use I didn't even need to consult the handbook.

Multiple Personality Disorder

The Matata Straights presented a fantastic opportunity to try out the five driving programmes the GLC offers including Eco, Comfort, Sport, Sport+ and a customisable Individual setting. Each offered unique computer-controlled adjustment of steering, suspension, brakes and engine performance.

Far from a gimmick, this feature seriously changed the entire personality of the car five times over. New mode – new car!

Our test car was also optioned with the Vision Pack which includes a head-up display, panoramic sunroof and upgraded navigation plus the Comand Pack that ups the infotainment screen to 8.4 inches, adds hard-drive-based sat-nav, plus 10GB of digital music storage, a DVD player, additional Bluetooth and voice recognition functions, on-board internet access and a 13-speaker, 590W Burmester surround-sound audio system.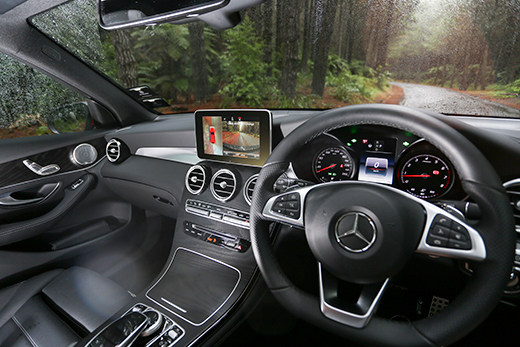 Sunday drivers

Day two of our test drive involved something drastically different to my family drive to the beach. I'd been invited to a pre-duck season clay target shoot at the Bay of Plenty Clay Target Association by vice president and Broncos Outdoors managing director Ben Tuck.

Nestled in the pine forests surrounding TECT All Terrain Park, the driveway up to the clubhouse provided the perfect backdrop for our photo shoot.

And while I reacquainted myself with a shotgun after 10 years overseas, Ben acquainted himself with some all-wheel-drive German performance on the combination of sealed and gravel roads around TECT Park.

Taking a break from his daily drive, a spec'd up Maloo Ute – this self-confessed petrolhead actually seemed quite excited about getting behind the wheel of a vehicle that in my opinion was more fitting of his vintage and social standing in the community.
However, little did I know that he was about to give the GLC a little more of a test drive than our local Mercedes-Benz dealership had in mind – or for that matter would approve of.

With comments like these supplied by Ben post test-drive, I think it's fair to say it will be the last time he gets left unattended in a borrowed car again.

"It really ate the gravel up, it handled the corners on the metal road with superb control thanks to the all-wheel-drive, even at speed and in the wet it felt extremely safe."
And: "If it had mud grip tyres I would have taken it hunting".

Thanks Ben, I'm not sure what I'm more relieved about – the fact that I wasn't in the passenger seat or that I was able to drop Euan's car back in one piece, albeit dirtier.

With a boot that feels smaller than its 550 litres would suggest, there is plenty of storage space aboard the GLC so it certainly could make for an adequate hunting truck. Although I'm not sure this is what Mercedes-Benz had in mind. It is also worth noting there are so many highly effective options for keeping drink vessels upright that we can't list them all, suffice to say if you are a thirsty traveller – buy a GLC.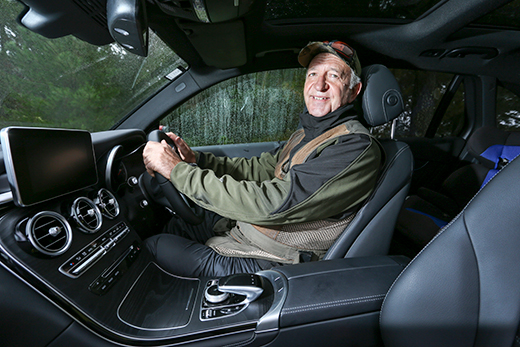 Verdict

The GLC has the ability to do everything well. Great in town and on the open road while being surprisingly capable on a twisty gravel road, the GLC is a seriously complete package. This aggressively-positioned premium SUV feels more luxurious than its price-tag would suggest and felt more special than some cars costing far more.

SPECS

HIGHLIGHTED FEATURES AS STANDARD:

2 litre turbo petrol engine providing 155kWatts
Power tailgate
Active parking assist
Collision prevention assistance & blind spot monitoring
Rain-sensing wipers
20 inch wheels
Mercedes-Benz GLC range starting from $89,990 (RRP) +ORC
Ingham-Sears Mercedes Benz 55 Totara St, Mount Maunganui. Ph: 07 572 8260.