Cayla-Fay Saunders and Tinesha Lupke take a break from the test drive. Photos: Bruce Barnard.

'Less is more' might be a tired old cliché, but it just seems to fit when you hop behind the wheel of Toyota's new Yaris. Previously known as the Toyota Echo, this Japanese light car has been a hit for nearly two decades since its launch in 1999.

The new model has impressed the Bay Driver team once again with its seamless blend of individual style, fine dynamics, intelligent packaging, utter reliability, and unexpected personality.
Enter the third generation. Still unmistakably Yaris, still Toyota clockwork reliable. But also much more grown up than before. Designed in Japan – a first for a Toyota supermini since the 1996 Starlet – "it is actually regarded internally as a European car, since much of the research and development work was actually carried out in Europe, for Continental tastes,'' says Pacific Toyota's new vehicle sales manager Mike Ranstead.

There are three models in the range to choose from, beginning with the entry level 1.3 GX, (still with a manual option if desired), followed by the 1.5 SX and onto the reviewed model, 1.5 ZR.

Picnic in the park

This week's Bay Drivers, last-minute ring-ins Cayla-Fay Saunders and Tinesha Lupke from The Weekend Sun, jumped at the chance for a few hours out of the office. Bribed with a picnic basket and a trip to Kulim Park in a brand new bright yellow Yaris ZR hatch, the girls were ecstatic. Both comment on the new shape.

"It looks really different to the old Yaris," says Tinesha. "It felt very spacious for a compact car," says Cayla-Fay.

What's different this time? It was hard to put my finger on, but after checking the specs the girls were right. All grades have received changes to the front and rear bumper, front grill and back door, with new stylised headlamps and rear combination lamps, and ZR gets light guides – well spotted ladies. We all thought the proportions were spot-on with a more muscular stance than the previous Yaris.

Inside, the instruments are positioned centrally, with a nice clear concise speedometer, bordered symmetrically by the two ancillary gauges. White on black is easy on the eye and makes for easy recognition. The same goes for the improved driving position which includes reach and tilt adjustment for the wheel, which incidentally has a 'D' shape, allowing for easy knee access under the wheel for those of a taller disposition. The Lexus-like trim textures are pleasing aesthetically, beautifully-fitted and obviously durable. "It's quite luxurious given the low price point," Cayla-Fay notes.

Deep side windows and thin A-pillars improve visibility. The seats are bolstered for better overall support; and this third generation platform provides very good rear legroom, as well as a more bountiful cargo area.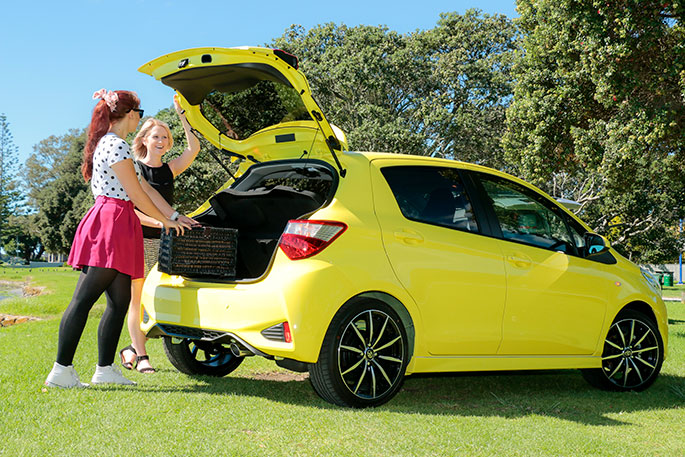 Packed with extras

Looking at the spec sheet that Mike gave us, I was surprised to see that even the base model, the GX, scores seven airbags, the newly introduced Toyota Safety Sense, (this package includes Pre Crash Safety Sense system, Automatic High Beam – and land departure warning, stability and traction controls. It also includes Bluetooth and audio streaming connectivity, power windows, and a trip computer. Cruise control is available across the range. The higher spec SX and ZR models offer satellite-navigation – still a rarity in the light car class – with SUNA traffic info and climate-control.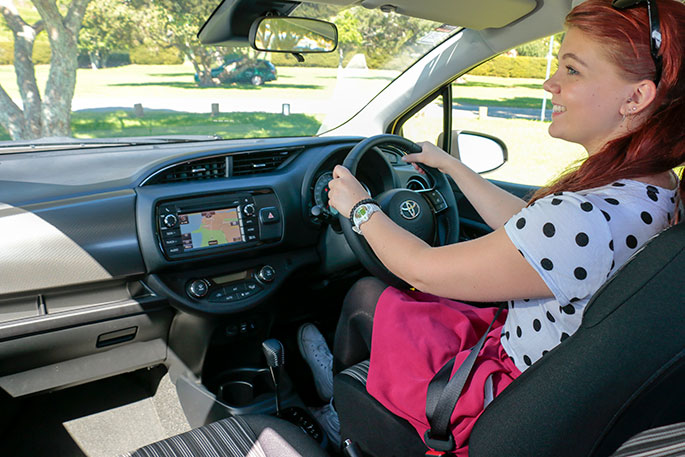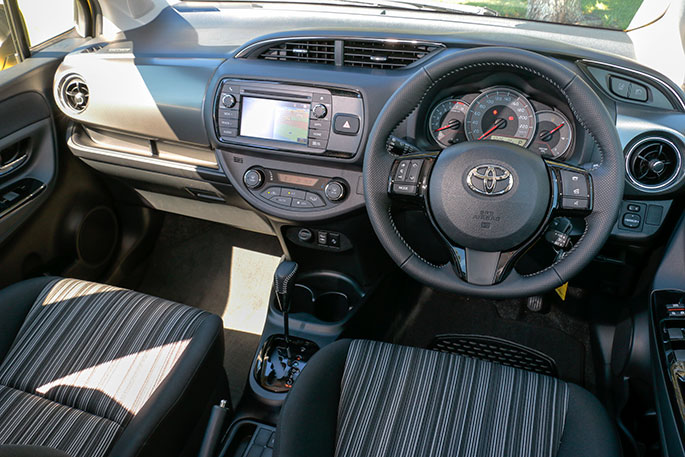 All grown up

Yes it appears that the Yaris has finally grown up and it is inside that most passengers will see, feel and hear the advances in ergonomics, refinement and usability the smallest Toyota available in New Zealand has made. But it is what's been done underneath that has left the most lasting impression on us.

Yaris engineering boss Hirofumi Yamamoto name-checked the Ford Fiesta, Renault Clio, VW Polo and Peugeot 207 as his dynamic benchmarks, and somehow the Yaris – from the GX manual base to the ZR flagship (there is an SX in between) – possesses a fine balance of agility and comfort that left us all feeling delighted.

The tuned electric steering, for instance, is both responsive and weighty for a keen driver to appreciate, yet isn't too heavy or fidgety so as to alienate traditional Toyota owners. Overall there's a sweet and harmonious balance going on here.

With the GX offering a 1.3L engine and the SX and ZR offering a 1.5L option, if you are looking for low fuel costs then look no further. But don't expect to compromise in terms of power. The technology of both power-plants sees these tiny motors punch well above their weight, the 1.5L we drove was quick off the mark even with four adults on board. There have been many advances over the old model in terms of sound deadening and body rigidity too and with the option of a five-speed manual gearbox or four-speed auto a new Yaris buyer will be spoilt for choice.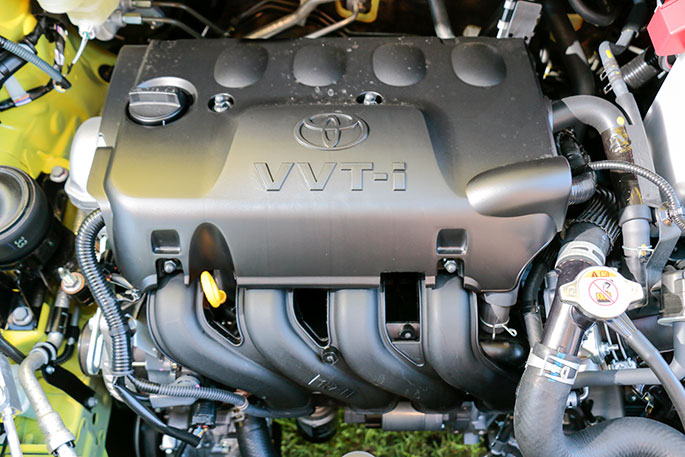 The verdict

Overall, this third-generation Yaris is a bit of a surprise package. The exterior styling has never before seen detailing that is just clever and the interior is just awesome – a level of class not expected in such a small car.

What Toyota has achieved here is nothing short of impressive – a light car of integrity, value, refinement and immense capability...especially for the price.
Highlighted specifications as standard
• Toyota Yaris Hatch ZR
• Petrol, 1.5L, 4-cylinder, In-line, 16-valve, Double Overhead Cam (DOHC) with Variable Valve Timing-intelligent (VVT-i)
• Maximum power – 80kW at 6000rpm
• Maximum torque – 141Nm at 4400rpm
• Front-wheel drive
• Fuel - 42L tank capacity. 91 unleaded
4-speed Electronically Controlled automatic Transmission (ECT)
• Sports style side skirts and rear spoiler
• Cruise control
• Power windows
• 6.1" touchscreen audio with radio, CD player, audio input jack, USB port, Bluetooth hands-free phone capability and audio streaming with six speakers.

From $27,790 drive away with the current Fieldays promotion – Pacific Toyota 119 Elizabeth St, Tauranga
07 578 1099.