Toyota has introduced a new player into one of New Zealand's most lucrative automotive segments – the compact SUV market – with the all new Toyota C-HR rolling into town to do battle with popular competitors such as the Mazda CX-3, the Honda HR-V and the Nissan Juke.

The new kid in town arrives with an exciting price point of just $37,990 for the Front Wheel Drive option and just another $2000 for the All-Wheel Drive – and both are packed with high levels of equipment for their class that should give it the edge over its competition.

Looking to attract a new, younger customer with an eye for modern styling and design, Toyota has decided to inject some fun into its latest model. And you certainly can't deny the C-HR is, just as its maker describes, 'disruptive' with conspicuous styling – the likes of which has not been seen before in the company's long history.

All of those angles and interconnecting lines are ordinarily the preserve of concepts, but in this case are a direct line from the C-HR's first sketches to a production model.
From the front, the little high-rider has a handsome snout with a proud stance that flows through to the coupe profile, while more sharp expressions continue at the back end too.

All about colour

Someone with an eye for style and design is a good friend of mine, Rachel Tempest, who is a design consultant for Mastercraft Kitchens in Glasgow St, Tauranga.

I've been begging Rachel to review a car for me for months but she wasn't letting me get away with just any boring old motorcar. "Call me when you have something special," she kept telling me.

And finally last week, thanks to Pacific Toyota, the opportunity presented itself. With one of the worst storms in more than 40 years bearing down on us, Rachel's boss Colin Campbell came to the rescue giving us exclusive access to the Mastercraft Kitchens factory and some much-needed shelter for our photo shoot.

Before we headed over I called to check that Rachel was ready for us. "I am all about the colour you know Matt, what have you got for me?"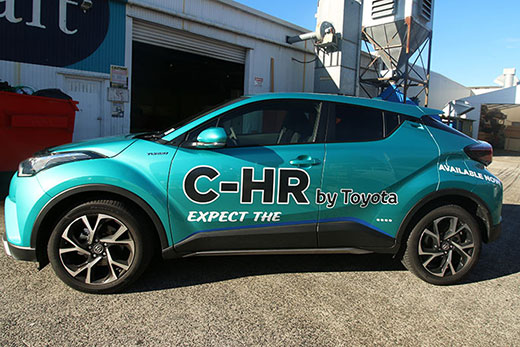 Fortunately for me, Toyota has broken with tradition by introducing a vibrant new colour palette that adds some excitement to both the model and brand. In particular, Electric Teal, Hornet Yellow and Tidal Blue really enhance the C-HR's excellent details including the rear door handle at the top of the door, which other brands have tried to hide but Toyota has celebrated. "How does Electric Teal grab you Rach?" "I love it," she said.

According to Pacific Toyota new vehicle sales manager Mike Ranstead, if you tick a few extra boxes when placing your order for your new C-HR they will add some brightly-coloured mirror caps, side skirts and lower front spoiler, which work fantastically with the new colours.

"The comprehensive set of customisations will appeal to both the traditional and the new Toyota customer," says Mike.

Under the bonnet?

Another break from tradition can be found under the bonnet where a small four-cylinder petrol engine has been slotted. In previous years the Toyota manufacturing team might have been tempted to squeeze in a large-capacity, naturally-aspirated engine – but this is 2017, and with huge advances in turbo power and technology the 1.2 litre charge-cooled, direct injection and single-scroll turbo-powered engine punches well above its weight giving the C-HR an exciting 85kW of power and 185Nm of torque. That's not enough for a TRD badge just yet, but it is more than adequate for nipping about town or cruising on the open road.

While we only test drove the FWD option, Mike says on very slippery roads or gravel the AWD system is a real plus, offering good levels of straight line traction and a balanced chassis thanks to the standard torque vectoring. "A number of owners will appreciate the benefits when hauling a heavy load on wet grass or sand, such as camping equipment or similar," says Mike.

In both the FWD and AWD, the CH-R's road manner is impeccable with light but precise steering, good body control and a settled body even in enthusiastic sections. A majority of the good behaviour is thanks to a sophisticated chassis tune and double wishbones at the back end – unique to the compact SUV segment.

The CVT automatic transmission makes sense in point-and-shoot compact car with the largest benefit coming from ease of use. We liked the switchable driving modes too, which simulates seven gear ratios when in the Sport mode rather than the feeling of just a single speed when in the Normal and Eco modes.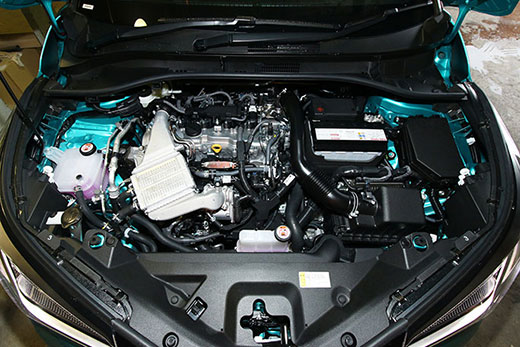 What's it like inside?

Rachel loved the interior, commenting more than once about its "futuristic feeling" cockpit. She loved the supportive sports-style seats and chunky steering wheel but her favourite feature was the cool dash layout with colourful touchscreen. Just like its exterior, inside the CH-R has bright interior design and features, combined with the prevailing diamond theme and contrasting dark hues once again, not a traditional Toyota but it works. Cabin space is also commendable, particularly given its exterior dimensions are about the same as the previous-gen RAV-4.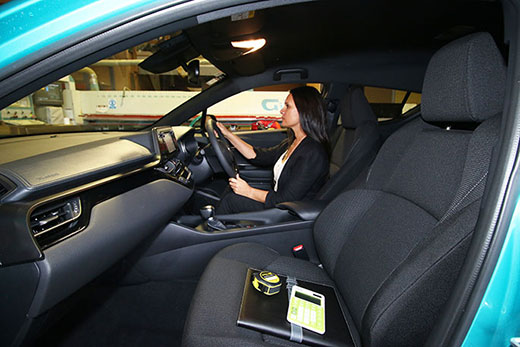 Any safety equipment?

How does standard pre-collision with autonomous braking, active cruise control, lane-departure warning with steering assistance, blind-spot monitoring, rear cross traffic alert, a reversing camera, trailer sway control for towing, hill hold, EBD, front and rear parking radar, seven airbags and rain-sensing wipers sound?

SPECS

• 1200cc turbo petrol engine
• 7-speed CVT transmission
• Reversing camera
• Front and rear parking sensors
• 6.1" touchscreen & audio display
• Bluetooth phone & audio
• Daytime running lights
• Sat Nav with SUNA traffic updates
• 18" alloy wheels
Price: RSP from $37,990 plus On-road costs.
Dealer: Pacific Toyota,
119 Elizabeth St, Tauranga.
Ph: 07 578 1099