While there is nothing new about a station wagon with raised suspension and four-wheel-drive, no one has ever seen anything like the all-new Volvo V90 Cross Country.

Not only can we now enjoy all the practicality of a family-sized station wagon packed with blistering levels of technology, this elegant piece of Swedish engineering also has the ability to go off-road. It is a credible alternative to owning an SUV.


Mountain bike and model kindly supplied by Bike Barn - 12 Kereiti St, Mount Maunganui. Phone 07 575 8844.

A relatively new arrival to the Volvo family, the original V90 was launched just last year at the Geneva Motor Show. Now, with the arrival of the V90 Cross-Country, buyers have the option of raised-height and all-wheel drive capability designed for use on rough terrain, unsealed roads and even some off-road usage.

When being briefed by Duncan and Ebbett's Mica Dawson on this week's Bay Driver review, Mica said she wanted us to portray a real sense of adventure when photographing the V90 Cross Country. Enter Fritz Lindekilde, managing director of Bike Barn in Mount Maunganui. Fritz is no stranger to Volvo. In fact he did his mechanic apprenticeship in the late 1970s with a Volvo dealership in Odense, the third-largest city in Denmark. He then went on to work as a Volvo technician in Hamburg, Germany in the 1980s. When picking up Fritz and his bike from Bike Barn he first commented on the sheer size of the cargo capabilities of the V90, the flat-loading lip and the way the rear seats can be folded at the touch of a button. While he took the front wheel off his bike to avoid scuffing the interior, it was hardly necessary.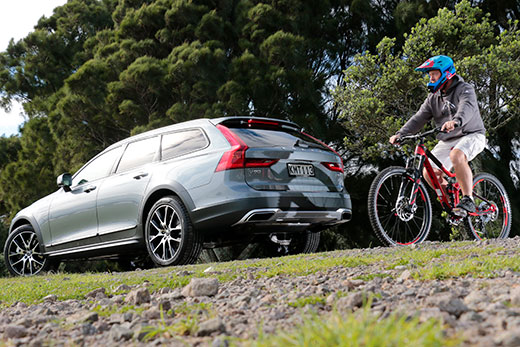 Drivability

Soon after getting behind the wheel, Fritz commented on how easy the V90 was to drive considering he had never driven one before. Despite the level of technology, the controls were intuitive rather than sophisticated. "This is a largely stress-free experience," Fritz said. He also noted the long travel on the throttle pedal that allows you to carefully measure out the car's performance. He also loved the smooth-shifting Eight Speed Geartronic Transmission.

The D5 2.0 I4 Common-Rail Twin Turbo Diesel has plenty of power for overtaking and is genuinely swift with fantastic response from low revs and, due to its permanent all-wheel drive capability, it also grips very well. Where the Cross Country comes into its own is off the beaten track. With an off-road setting for its all-wheel drive system, plus hill descent, skid plates and that extra ground clearance, it's a very capable car. In most cases, four-wheel-drive derivatives of family cars provide winter-weather reassurance and peace of mind in a point-to-point carpark. But in the case of the V90, the raised ride and off-road extras mean it's more capable than many more brash SUVs.

The interior

passenger space in the V90 is exceptional, with a huge amount of legroom in the back and plenty of head and elbow room all round. There are some useful cubbies and sizeable door bins up front, plus a large glovebox. Compared with a standard V90, the Cross Country's ride height has been increased by 65mm, and new, softer tyres have been fitted. The result is a car that is even more comfortable, with a wonderfully relaxed feel to the way it gets around.

While it rides perfectly on its standard 20-inch wheels and top-of-the-line Pirelli tyres, there is an option to add air suspension if you really want it. The seats and driving position are also excellent, and the engine only becomes particularly vocal when revved hard. At other times it simply fades into the background.

Where once Volvo interiors were a little boxy, these days they are defined by their soft curves and fabulous materials. The centrepoint of the interior is a large touchscreen, which is almost tablet-sized, and controls the car's major functions. The model we drove was also complemented by a Bowers & Wilkins sound system that is 'to die for'.

An optional extra, Bowers & Wilkins is a British-based company which makes the world's most advanced home theatre and high-performance hi-fi speakers. They have quite simply managed to install a home theatre system into the V90 that sounds like you are sitting in your lounge room.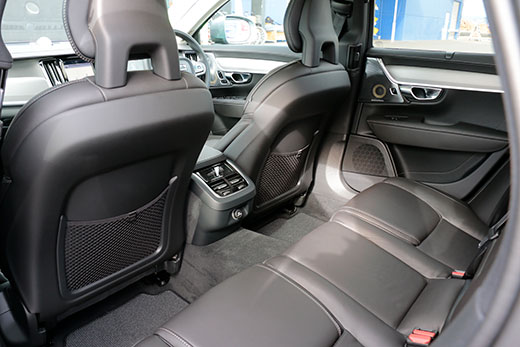 The verdict

The Volvo V90 Cross Country is a very fine car indeed and if you live down muddy and rutted tracks, or need to get to remote locations, will appreciate this car's useful off-road ability. In parting we leave you with this statement from Thomas Ingenlath, senior vice president design at Volvo Cars who we think sums up the all new V90 Cross Country perfectly:

"Designing a Volvo Cross Country is not a styling exercise, a plastic job. It is based on honest capability. The Volvo V90 Cross Country brings a surprising and intriguing combination of a strong, powerful exterior and a luxurious, Scandinavian interior. It will continue the genuine tradition of the Volvo Cross Country with a new recipe - the blend of powerful off-road capability in a most elegant, sophisticated, tailored wagon suit".

SPECS

Highlighted specifications as standard:

• Engine size - D5 2.0 I4 Common-Rail Twin Turbo Diesel
• Transmission - Eight Speed Geartronic Transmission
• Full-Time All-Wheel Drive
• Electric Power-Assist Speed-Sensing Steering
• Permanent Locking Hubs
• Power Liftgate Rear Cargo Access
• Radio: High Performance Audio System,
10 speakers, 330-watt amp, SiriusXM satellite radio, Apple CarPlay, Android Auto
RRP: $119,750 (drive away)
Duncan and Ebbett - Hewletts Rd,
Mount Maunganui. Phone 07-928 1280.