Handsome looks, a big roomy cabin, durable and smooth powertrain options, easy handling and a decent amount of kit have all helped keep the X-Trail among the top selling SUVs in NZ. It's little wonder this is Nissan's biggest seller.

General sales manager for Farmer Auto Village Nissan, Roger Matthews, couldn't wait to show us the all-new Series II X-Trail. It was so new into the dealership we had to wait 30 minutes for the workshop to finish getting it showroom-ready. We were not disappointed. The new model has a far more aggressive nose than the outgoing version, which looks fantastic, and the new tail-light assembly gives it a stylish new look to the rear. But it was the interior upgrades that really scored big with the Bay Driver team. Better quality materials. More attractive contrasting trim. Upgraded audio unit. The list of enhancements was pretty long. "It's about keeping the crossover contemporary," Roger says.

This week we invited Pinnacle Marine's Geordie Nicholson to assist with our review. As a luxury boat dealer he is always on the lookout for a decent tow vehicle and he was super impressed with the new X-Trail, allowing us to test its towing and reversing capabilities on his brand new Monterey 196FS Sport Boat.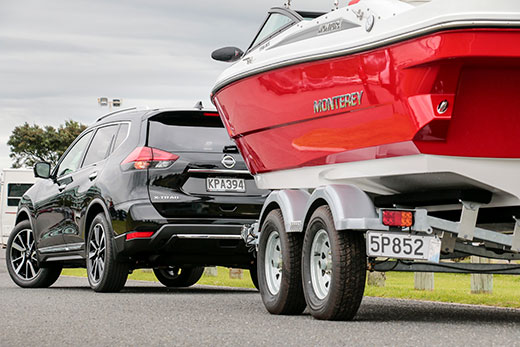 The interior

The colour-coordinated and more monochromatic dash detailing gives the interior a fresher appearance, without compromising all the good stuff we've come to like, such as the big cushy seats, ultra-clear instruments, easy-reach switchgear, huge central touchscreen, ample storage solutions, and agreeable driving position – the latter aided by quite deep windows. The X-Trail really welcomes you inside.

There's heaps of room as well, both front and rear, backed up by reclinable backrests for adults to enjoy in the second row. And while the third row is probably more suited to smaller passengers, it signifies just how much cargo area is available in the non seven-seat versions which are also available. There is even the added practicality of two-section lift-out panels for additional storage under the floor. According to Roger, the luggage capacity is 565 litres with the second-row seat upright. "There's a hint of old-school station wagon coolness about this car," says Geordie.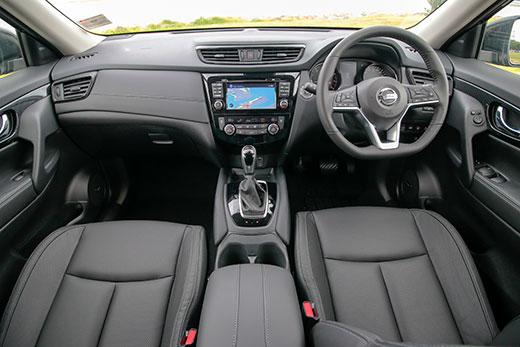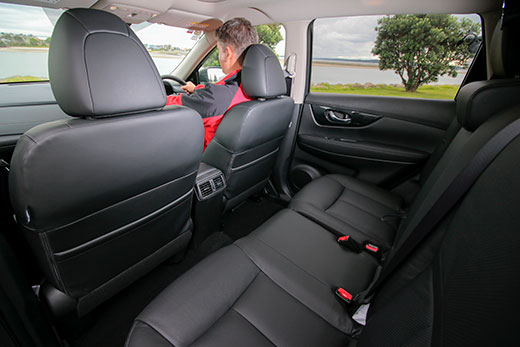 Under the hood

Nissan hasn't made any changes to the volume-selling 126kW/226Nm 2.5 litre four-pot atmo petrol engine. We thought it was a cracker of a powertrain combo with the economy-biased CVT auto a solid and consistent performer, with eager off-the-line acceleration and a fair amount of mid-range punch when required.

The CVT ensures the engine is working at optimal efficiency when the driver kicks down. Nissan is adept at developing CVTs which operate like a conventional automatic transmission – calibrating artificial steps for a rush through the rev range mimicking acceleration through gears. And the Nissan X-Tronic is much more hushed and responds faster to driver input than CVTs from other brands.

The X-Trail's steering is sufficiently weighted and responsive to please most buyers, offering safe and accurate handling, as well as planted road-holding characteristics. It offered impressive stability and grip on the small amount of gravel we tested it on also. Where the X-Trail excels is in its ride quality. There is no wallowing or pitching, just well-damped comfort which never ceases to impress (even over head-tossing country road bumps and gravel road corrugations and potholes).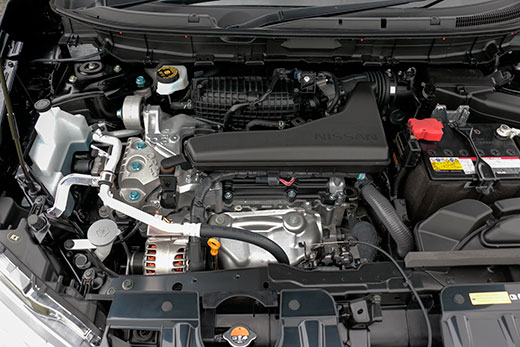 Safety

New technology, from Nissan's Intelligent Mobility suite is significant. All models score autonomous emergency braking (AEB) and forward collision warning, while items like pedestrian detection for the AEB, active cruise control, rear cross traffic alert and adaptive front lights are model-dependent.

The verdict

Clearly Nissan is confident that the X-Trail can still meet its newer and more glamorous rivals head-on in the market. After a few hours of inner-city driving, a few highway kilometres, a touch of gravel and even some heavy towing, it was easy to see why.

With five variants to choose from, including the range-topping Ti which comes with a motion-activated tailgate and an 8-speaker Bose audio system that sounds incredible, there is an X-Trail suited to every application you can think of. The Nissan X-Trail remains an affordable, practical package with great appeal for families. In many ways, the improvements included in the updated lineup are the icing on the cake for most buyers who already appreciate the virtues of Nissan's medium SUV. Nissan are going to be inundated with repeat and new customers looking to test drive their latest offering.

SPECS

Highlighted specifications as standard: (Ti)
• Engine size – 2.5L Petrol (126KW / 226Nm)
• Transmission – Automatic (CVT)
• All mode 4x4 system
• 19" Alloy Wheels
• Heated Door Mirrors
• Heated Steering Wheel
• Powertilt and Slide Sunroof
• Bose Audio with 8-Speakers
• Rain Sensing Wipers
• Motion sensing tail-gate
RRP: From $39,990 Plus ORC (ST-2WD 7-Seat)
Farmer Auto Village Nissan - Hewletts Rd,
116 Mount Maunganui. Phone 07 578 6017.

Boat and celebrity driver kindly supplied by Pinnacle Marine, 69 Cross Rd,Tauranga - Phone 021 166 7284.