The new Colorado Blackout - Secrets revealed

When Holden's second-generation Colorado Ute launched June 2012, it included some fairly significant changes in design and technology from the previous model. However it was the big 2016 mid-life facelift – with plenty of Australian engineering input – that really put this truck right up there as the benchmark in utility vehicles.

Now Holden has taken things one step further with the launch of its Blackout Edition, a strictly limited release that adds $11,000 worth of fitted extras to the LS, LT and LTZ 4x2 and 4x4 Colorado Range.

After just one day on the road, this exciting new ute has indeed earned its way onto our list of favorite test drives.

Someone who knows a lot about utes is Rob Axton from Country RV in Mount Maunganui.

With more than 30 years in the caravan and motorhome industry, Rob is a local authority on tow vehicles.

Sharing with us one of his own recent releases, the Southern Star Titan 740, Rob put the new Colorado through its paces and he wasn't disappointed. The 2.8-litre four-cylinder Duramax 2 turbo-diesel engine produces 147kW of power and at 2000rpm, 440Nm of torque and a whopping 3.5 tonne towing capacity.

"There isn't much at my place that this thing won't tow," Rob told Bay Driver.
Rob also noted that the six-speed transmission is quick, slick and intelligent. "It really gives this truck a bit of personality," he said.

For long high-speed hauls, the engine lopes along in a relaxed manner at low revs and rarely requires a downshift for hills.

A manual gate is provided for those wanting more control on twisty roads, or while off-roading.

For departing the beaten path, a rotary controller in the centre console activates four-wheel-drive mode on the fly but does require the vehicle to be stopped and placed into neutral before low-range can be selected, which is not uncommon in a 4x4.

In some vehicles however the latter process can be a hit-and-miss affair but Rob never experienced any trouble in the Colorado.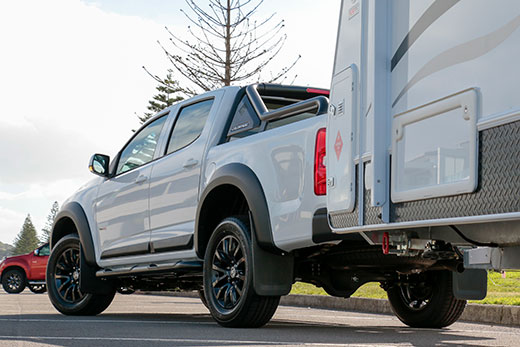 So what else is new?

In addition to the Blackout extras – which include 18" rims and tyres, nudgebar, steel side steps, sports guard liner, LED light bar, flare guards, 'BLACKOUT' decals and an extended sports bar – the Colorado includes a fresh 8.0-inch touchscreen multimedia system with Apple CarPlay and Android Auto smartphone connectivity plus DAB+ digital radio reception and voice recognition.

Driver assistance and safety aids are also added, comprising forward collision alert, lane departure warning and tyre pressure monitoring. A reversing camera is also standard.

Seven airbags, electronic stability control, hill start assist, trailer sway control, and LED daytime running lights are also standard across the Colorado range, contributing to a five-star ANCAP crash test rating for all variants. Other highlights on the LTZ variant include climate control, front and rear parking sensors, satellite navigation, electric driver's seat adjustment, LED tail-lights and remote vehicle start on automatic models.

Interior

If you have experienced the pre-facelift Colorado, the new interior is unrecognisable in a very good way.

A soft-touch swathe across the dashboard's middle latitudes gives the impression of leather with its double-stitched seam, while the upper and lower hard plastics are less hollow-feeling and more pleasantly textured than before. We would like to see door caps trimmed in soft-touch, but the Colorado is still very much a commercial vehicle in this regard.

Metallic highlights such as the vent and transmission lever surrounds, chrome-rimmed instruments and gear selector knob plus more metal-like flashes on the door trims also break up the overall blackness in a tastefully restrained way. Button-count is also restrained, but Holden has thankfully not gone too far with placing everything in the touchscreen to the detriment of usability.

There is chunky switchgear throughout and simple rotary controls for audio and
air-conditioning.

We found the MyLink touchscreen easy to use on the move and steering wheel controls are one of the only interior items carried over from before with their big, tough-feeling, chunky buttons and rocker switches. The new multi-function trip computer provides heaps of technical information, right down to how many hours the engine has been on for and how many of those were spent idling. The automatic transmission fluid temperature readout is useful for off-roading too.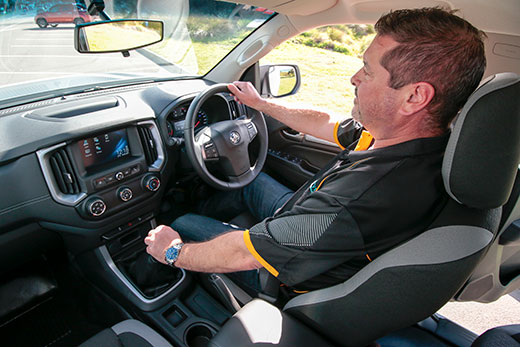 Ride and handling

The Colorado's advantage over its rivals is how nimble and manoeuverable it feels around town. And let's face it, particularly in the up-spec LTZ we drove, most of your drive time will be spent in the urban environment. Ride comfort is a revelation. Even on the 18-inch alloys with only the driver aboard we could easily forget we were driving a body-on-frame truck. There is an easy suppleness about the way it deals with bumps and we had to deliberately provoke chassis shudder by aiming at laterally uneven surfaces. This is all the more astonishing when considering every Colorado variant can take more than a tonne in the tray. By comparison some of its nearest competitors need a heavy-duty suspension option to access their full payload potential, to the detriment of comfort unless a few hundred kilos are stacked in the back too, we might add.

Most utes feel as though they are about to trip over their outside front tyre under fast cornering, but not the Colorado. Bodyroll is well-contained and its confidence-inspiring steering (now electrically assisted with components related to those used on the VF Commodore) remains positive-feeling at high speed and lacks the vague wooliness typical of vehicles that are set up to go off-road. And whilst Dealer Principal for Ebbet Holden Tauranga Julian Clements wasn't keen to see us get his new ute all muddy,
he assured us that off the beaten path the Colorado performs well.

He told us about an off-road test drive he had attended where the ample ground clearance and axle articulation of the Colorado was perfect for negotiating some of the deeply rutted tracks he encountered which were littered with wash-outs from heavy rain. He also went on to skite about the low-speed engine responsiveness, accurate throttle control and outstanding visibility that made life pretty easy for those who work on the farm or in the bush.

Ebbett Holden Tauranga, 123 Cameron Road, Tauranga, Ph 07 281 1933.
Caravan and model courtesy of country RV, 96 Hewletts Road, Mount Maunganui, Ph 0800 288 860.