At first glance the Land Rover Discovery looks big and cumbersome, but at first drive you forget that first misleading impression and marvel at the response and ease of engine power that turns this big wagon into pure driving delight.

Be warned! There is real power on tap here too, which will throw you back in the driver's seat if you push the accelerator hard while making a lane change to avoid traffic queues.

Contrasting beautifully to the power and superb balance on offer, the Discovery feels nimble, light and ever-ready to please.

There is character oozing out of the Discovery ride. If this SUV could talk it would likely sound like a friendly pup, anxious to play and please, ready to show off, but well-trained and always perfectly polite.

First impressions really do tell the tale. The fit and finish is extraordinary, which engenders considerable confidence and a fair degree of 'what happens when I push this?' for the novice new to the Land Rover world of driving with digital tricks at the
driver's fingertips.

One real highlight was the rotary control for gear selection and parking break-lock that is automatically engaged when park is selected.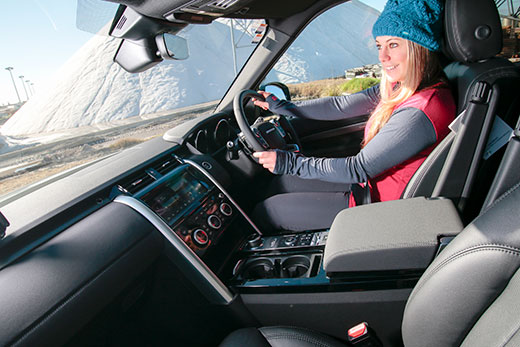 Discovering what's under the hood

Powered by a 254bhp 3.0-litre turbodiesel V6 and coming with an impressive list of standard equipment that includes LED headlights, a 14-speaker premium Meridian audio system (standard in HSE Luxury only), optional rear-seat entertainment screens in all three models and 20-inch alloy wheels, (standard on HSE and HSE Luxury, 19-inch wheels on Discovery SE), this is the top-of-the-range diesel version of the new Land Rover Discovery '5'. It is a mightily plush and upmarket car and nothing less than the most capable car that Land Rover claims it has made to date.

As a result of the move away from the Discovery 4's old semi-separate chassis, the Discovery's ground clearance has actually been slightly reduced from 310mm to 283mm which gives it a stylish, less imposing look and a sports car-like feel on the road.

Despite this the new Discovery will still wade through as much as 90cm of water, is considerably lighter (200kg) than the model it replaces, retains a low-range transfer box and has a more sophisticated suite of electronic 'terrain response' traction and stability control systems than any Land Rover that has come before it.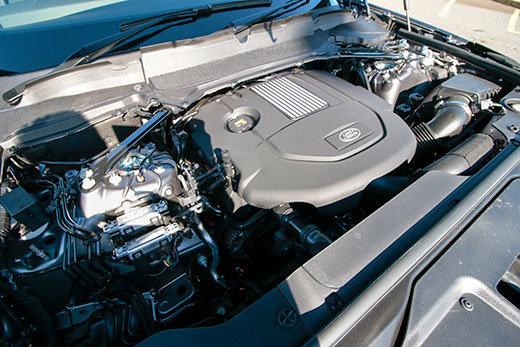 Despite the new specs, the new Discovery still feels like a very commanding and capable SUV.

Getting in will mean stepping up for almost anyone. You then settle into a driver's seat that locates your eye line several inches above where it might be in any of the Discovery's German rivals, and that sits you upright and bent-legged at the controls way above both the car's shoulder line and surrounding traffic, giving you exceptional all-round vision.

Discovering luxury interior seating

The Discovery's front seats are incredibly comfortable and both the second and third rows of seats provide excellent levels of passenger space. The rear row is particularly spacious, big enough even for full-sized adults to travel in, as well as fitted with proper Isofix child seat anchor points and optionally available with heated seats.

Another of the Discovery's HSE optional party tricks is the motorised folding and unfolding mechanisms for all five rear seats, which can be controlled from the infotainment screen up front, from buttons in the boot opening or via smartphone app.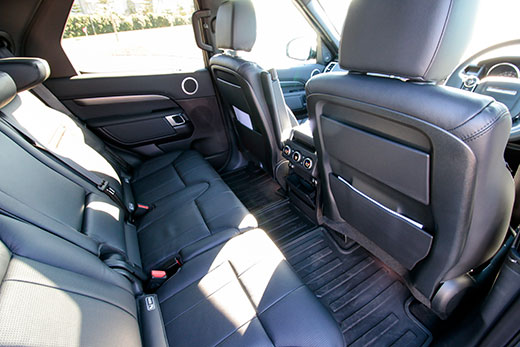 Discovering driving delight

On the move, the Discovery's mechanical refinement is on par with most luxurious SUVs. This car's size and bulk, its gentle ride, its precise but pragmatic handling and its torquey but laidback power delivery all combine to make for a wonderfully relaxing at-the-wheel experience, and one that's as clearly distinguished by a sense of superiority on the road.

Everything about the way this new Discovery eases its way down the road also reminds you of what it's holding in reserve. The car is directed with a typically large-diameter steering wheel that's moderately paced and yet still quite weighty.

Through corners, the Discovery doesn't roll like its predecessor, but rather handles keenly and grips as hard as a considerably more sports-like car. There is no mistaking the Discovery rides and handles like a big car – but a very cleverly-tuned one.

There's real accuracy and feel to the steering over the first 45 degrees off the straight-ahead, before that slight SUV body roll gently reminds you how quickly the car is meant to be driven through a series of bends, and giving you plenty of margin in which to rein in your enthusiasm. And in the event you do push the boundaries a little too far, the car's stability and traction control systems are clever enough to keep things under a constant and discreet sense of control.

Aside from the provision of the necessary chassis compliance and wheel travel to make good on Land Rover's claims for this car off the tarmac, the Discovery's particular suspension tuning also makes for a superbly comfortable ride on the road.

Here, the Discovery's total freedom from sporting pretension really pays dividends. Its suspension soothes away bumps large and small with a beautifully-judged suppleness unknown to plenty of luxury saloons and few rivals in the world could equal.

The Discovery is a ride that enthrals in part because it appears as a masterstroke of thoughtful design that balances interior space and driver ergonomics alongside the need for smooth power delivery. As a people mover, it will do so in luxury, comfort and style.

The Discovery is a beautiful-looking ride too. The two well-spaced sunroofs (standard in HSE Luxury and optional on other models) and generous window space means drivers and passengers can enjoy a ride with light and space that will have them arriving at their destination feeling like they discovered the joy of travelling for the first time.

SPECS

Engine: 3.0 litre v6 turbo diesel
Driveline: Four Wheel Drive (4WD)
Transmission: 8-speed
Power: 190 kW
Torque: 600 Nm
Maximum Torque rpm: 2,250
Capacity: 2993 cc
Max towing Capacity: 3500kg Braked
RRP from $114,900

Duncan and Ebbett – 115 Hewletts Rd,
Mount Maunganui. Phone 07 928 1280