I remember the days when a base model car meant the bare bones. In most base model cars, you were lucky to get a steering wheel. How times have changed.
I also remember when growing up my friend's father owning a late 80s/early 90s Kia Pride (brand new!). It was an abysmal tin box, and we extracted much fun out of him. But nothing stands still.
I enjoy seeing the progression of automobile manufacturers and ever since the days of that Kia Pride I've watched the evolution of Kia.
Manufacturers all seem to follow one of two paths – starting with the abysmal to the mundane, they then either disappear into a world of hum-drum or, like Kia, become a dazzling spectrum of their former self.
Kia's 2018 Sportage SUV is a far cry from the formative years. Its outlandish design is unmissable. It dances to the beat of its own drum and makes no apologies.
If you thought Kia was still a little bit hum-drum, it's time to leave your attic apartment and go out and interact with humans again. Things have moved on and Kia is at the front.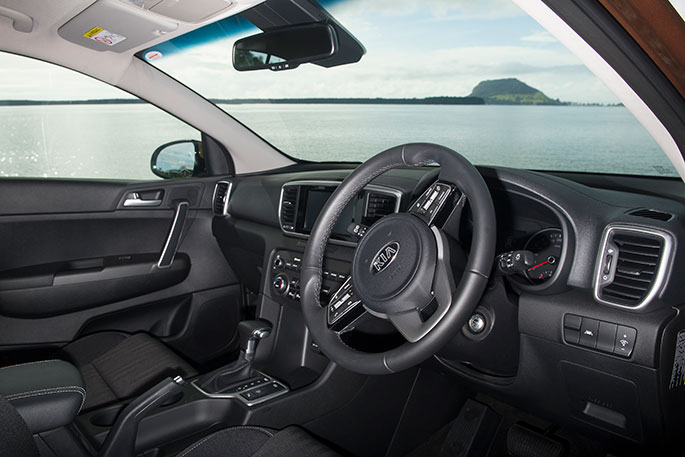 Our bronzed beauty was the base model Sportage LX - but anything but basic. The entry level spec, toys and overall package of the LX is something that base model owners have dreamed about for centuries, when people used to own base model horses.
From the unmistakably Kia-esque exterior, to the leather covering on the auto shifter, you could be mistaken for thinking you'd stumbled upon a premium luxury automobile at factory floor prices.
Rarely do you get ride quality akin to the Sportage for anything under $80,000. It feels planted, sturdy and smooth on the road, and laughs in the face of rough surfaces.
The steering is light and the car surprisingly agile for a decent sized SUV. Having driven same-sector SUVs more than twice the price I would honestly have to say I would buy the Kia.
Either Kias are the master of disguise, or the Sportage will last you a lifetime. It's got that kind of build quality about it. The good thud when you close the doors, the silent and smooth running, and even though the interior is mostly plastic materials, it's not your super special el-cheapo stuff.
How can you tell? No rattles or squeaks. It's amazing just how many brand-new cars have plastic rattles and squeaks, but none of that nonsense here.
The seven-inch centre touch screen on the Kia houses a nice variety of options. All the usual players are here: Apple Car Play, Android Auto etc. plus connectivity to your Bluetooth phone. A nice touch is the two USB charging ports for your devices, because why should just one person get to charge their device?
There's also three 12v power outlets, so you can keep all the passengers entertained with various bring-along entertainment.
Speaking of passengers, if the four spots for the usual passengers isn't enough, try folding down the back seats. This unleashes a cavernous 1455L of space! Laid out neatly, you could fit 20 passengers into that space, or if you want to keep it legal, you and a pal could have a camping trip with room to take all the mod cons.
The Kia Sportage comes in seven different flavours, from the base model LX 2.0 petrol or 2.0 diesel, to the range-topping GT Line, available in 2.4L petrol or 2.0 diesel. Most model variants are available in 2WD or AWD.
All models offer great mileage, with the 2.0 diesel starting at just 6.4L/100km to the 8.5L/100km of the top line 2.4 petrol engines.
Safety isn't an issue here either, with all models in the Sportage family achieving five-star ANCAP safety ratings.
All petrol models come with a super smooth six-speed automatic with sequential sports shift, and a new eight-speed has been developed to mate the torqueier diesel engine. The GT Line models also benefit from paddle shifters on the uber cool D-shaped steering wheel.
Higher end models also have the luxury of proximity keys and automatic tailgates, plus electronic park brakes with auto hold, as opposed to the good old hand brake in the entry levels.
All in all, the Kia Sportage offers everything you could want in an SUV, in a very well-built package and at a great price. Kia's latest corporate look is bold and stand-out, so if you like to turn a head or two, you might have found your vehicle.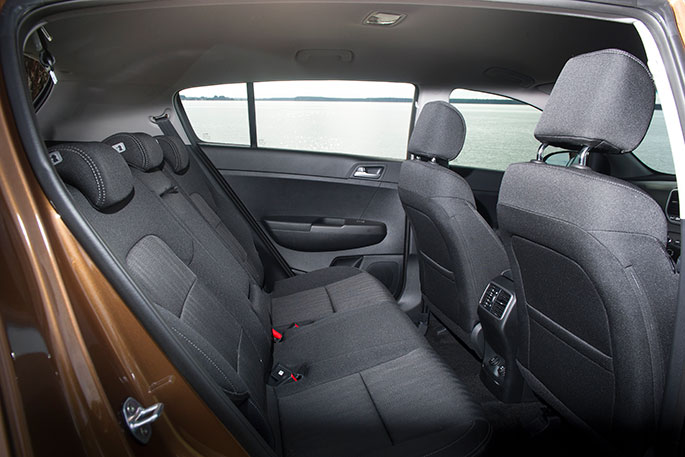 Specs
Model: Kia Sportage LX Urban
Engine: 2.0L MPI Petrol
Transmission: 6-speed automatic
Priced From: $29,990 + ORC