You might be forgiven for not knowing that there's such a thing as a Suzuki Jimny. But this is about to change, and probably quite dramatically.
Suzuki's understated workhorse has been reinvented, and their baby SUV has been relaunched as Scrappy Doo. No, it's not named after Scooby's nephew, but it resembles him in more ways than one.
The all new Jimny is still a small SUV, but it comes out swinging - ready to fight anything that wants to take it on. You half expect it to pull up next to those ridiculous sized utes, cock its wheel and tinkle on its tyre.
On the surface, the new Jimny looks like a cute baby SUV and not much more than a shopping cart.
Look again. Underneath the new ruggedized surface lays an incredibly capable four-wheel-drive. With a genuine, bona fide four-wheel-drive system called ALLGRIP PRO, the Suzuki Jimny can be changed from two-wheel-drive for normal driving, full on four-wheel-drive for mild off-roading, and even low ratio four-wheel-drive for climbing cliffs.
The Jimny even comes with hill hold, hill decent control, shift interlock and electronic brake force distribution. That's just a whole lot of words to say one thing – awesome.
The Jimny probably belongs more on the farm than it does the high street, but with the new styling and what is actually a really comfortable cruiser, you'll probably see a lot more farmers venturing in to town.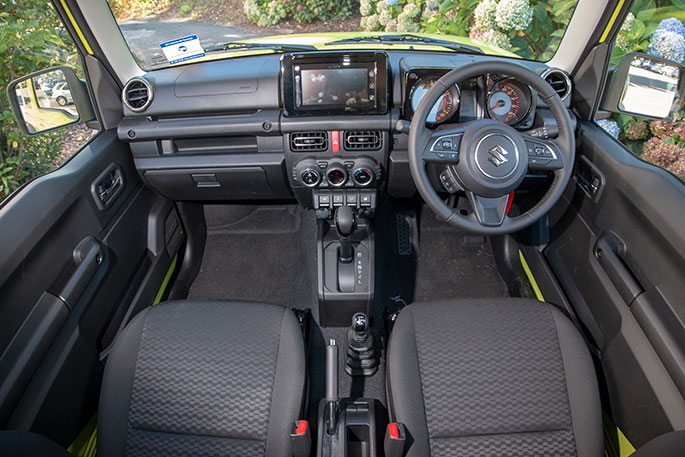 But it's not simply a farm hack. The Jimny comes with all mod cons, and I'm not just talking about the cruise control, speed limiter and other toys you expect from modern cars. There's also Sat Nav and Bluetooth hands-free.
Not enough? How about a full touch screen system, MP3, Apple Carplay, Android Auto and USB connection, air conditioning and climate control, lane departure warning and even weaving alert? It's all in there.
The Jimny Sierra range comes in four variations. Mostly, everything is shared across the range, with the only significant differences being manual or automatic transmissions and a two-tone colour scheme.
The Jimny is powered by a 1.5-litre petrol engine, churning out 75kW and 130Nm of torque. It's very well suited to the size of the vehicle, so you won't be left wanting.
It is built on a rigid ladder frame, known for strength and zero flex in off-road conditions, and coupled with all round three-link coil spring suspension with rigid axels – the hallmarks of a real 4x4.
It's a small package, at just 3.5m long and 1.65m wide, however tall drivers will have no issue getting behind the wheel. There's also room in the back to carry everything for a hiking, camping, fishing or skiing trip, all at the same time.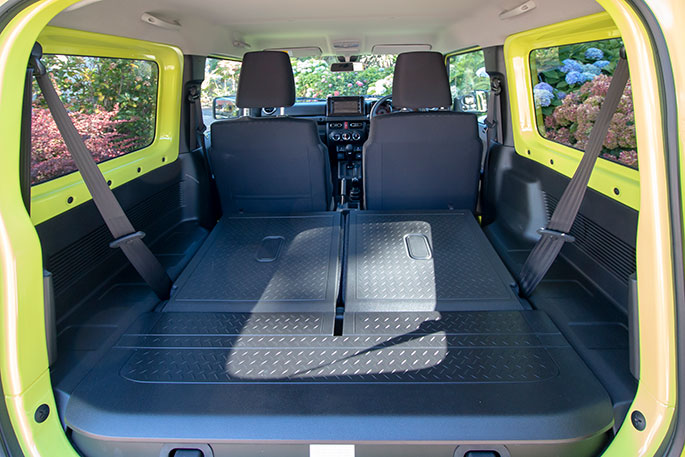 In regular town driving, the Suzuki Jimny is an incredibly fun car to drive. You feel very connected to the car, and it does what it's told and behaves like a grown up most of the time. It has a cheeky, childish side to it though, as it whips around and pulls faces at spectators.
Although I didn't get to test the Jimny off-road, I did test all the functions in some harsh suburban surroundings. Shifting to four-wheel-drive, you can feel something has changed immediately. It's hard to describe - a feeling of certainty, sure-footedness and dependability.
Change it up again, to low ratio four-wheel-drive, and the Jimny feels like it could go anywhere. There's a certain whine that comes from low ratio systems that just screams "ready for anything".
Inside, the Jimny has also been given a dose of tough love. Everything is made to look and feel rugged, with big bolt heads protruding and bold, rounded lines all over the place.
There's a lot of cool in here. The touch screen is easy to navigate, simple to understand and is pretty much set and forget.
Even with all this ruggedness, the seats are soft and comfortable, and the steering wheel is graced with a lovely soft leather. There's a lot of different readings to choose on the dash too, so you know exactly how your Jimny is performing.
Suzuki, you've done yourselves proud with this one. You've managed to retain and greatly improve the workhorse, and have totally nailed making it look stylish, rugged and incredibly cool all in one package.
For serious fun in a serious off-roader, you'll drive away without feeling like you've been hung upside down by the schoolyard bully and fleeced of all your money.
The all new Jimny starts at just $25,990 for the manual variant. If you want the two-tone colour scheme which comes with a different colour roof, just add $500.
The automatics are a little more, starting at $27,500 or $28,000 for the two tone model.
Our acid-green monster is the two-tone automatic, and is currently sitting on the forecourt of Tauranga Motor Company waiting for you to go and play. Do it, go play.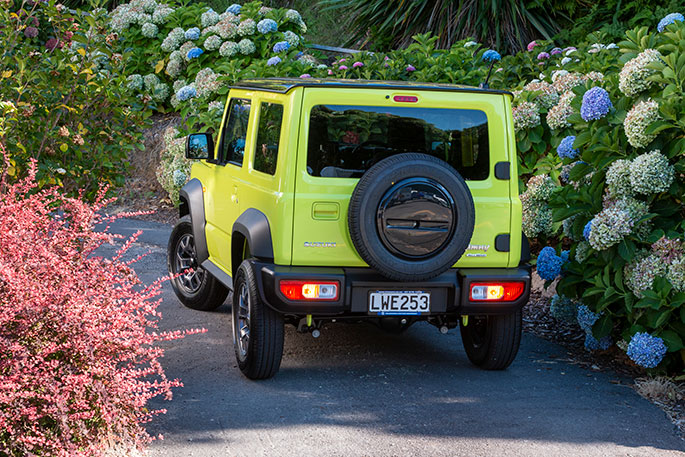 Model: Jimny Sierra
Engine: 1.5-litre petrol
Transmission: Four-speed automatic
Priced from: $27,500 + ORC