We've all got a memory of that plain Jane or John who disappeared for a few years, reinvented themselves while they were away, and then suddenly reappeared as a totally different person.
Back in the 1990s, my mate had a Honda Civic. He was studying to be an accountant and it was the sensible, reliable choice for a uni student. They were happy together.
To be honest, the last time I paid this car any attention at all was when I was looking for a smallish car to commute between cities. I was attracted by its slender fuel consumption and it wasn't too embarrassing.
So imagine my surprise when I wandered out through reception to find this silky, sporty 2019 model, swathed in a colour called Phoenix Orange Pearl.
This is no small makeover, and the styling changes over the last few years are breathtaking. Honda is known for its styling but it has now delivered, in spades, with the Civic RS Styling.
Just to double check, I looked around the back and sure enough, stamped on the boot, it said Honda Civic RS. What a head-turner.
It's hard to say what's better looking – the back, with its spoiler and shark fin antenna, or the front, with its slanted eyes and wicked smile above a neatly detailed front spoiler.
Inside, the positive first impressions continue with black styling and perforated leather trim, offset by red stitching and a few shiny chrome details.
There are no analogue displays – it's all digital LED, which is bright and easy to see even on a sunny afternoon. The 425 watt premium "infotainment" system, with its 10 speakers, is also entirely digital save for a solitary volume control.
The air con, however, is more old-school with actual dials and buttons to use.
Cars these days don't have big handbrake levers – just a button. It will disengage when you accelerate away.
Looks aren't everything though. What's on the inside matters too.
The RS has a 1.5 litre DOHC VTEC direct injection turbo engine. It delivers 127kw of power at 5500 rpm and 220Nm or torque at 1700-5500rpm.
It is a step up from the 1.8 litre SX model, but without the guns of the 2l Type R Sport model. Still, if you read those numbers then go for a drive, you are in for a surprise.
I'm not sure if it was just because I was expecting the Civic to be a sedate mid-size sedan, but the acceleration and handling, coupled with the sports styling made for a really enjoyable drive in the hills west of Tauranga.
This could have something to do with the uprated suspension, the sport stabiliser bar and the Michelin performance tyres that come as standard on 18-inch alloy mags.
The seven-speed paddle shifters offer the driver a few more options, but the CVT transmission does a good job even on tight roads and changing gradients.
The Civic sits on the road nicely and the power is well matched, offering the driver an enjoyable experience. The torque is there when you need it, right through the range of speeds.
Perhaps the biggest revolution going on in the auto industry right now is the artificial intelligence that is being introduced.
Some of that is happening in and around the engine in the form of performance and fuel efficiency, but there is some real sci-fi stuff happening in the safety department.
The Honda RS has more than a few of these features.
For starters, there is the active road departure system and its associated warning signals. It will gently nudge you back into the lane if you start to drift out.
Likewise, the adaptive cruise control will match the distance to the car in front, so you can keep your cruise control on more often.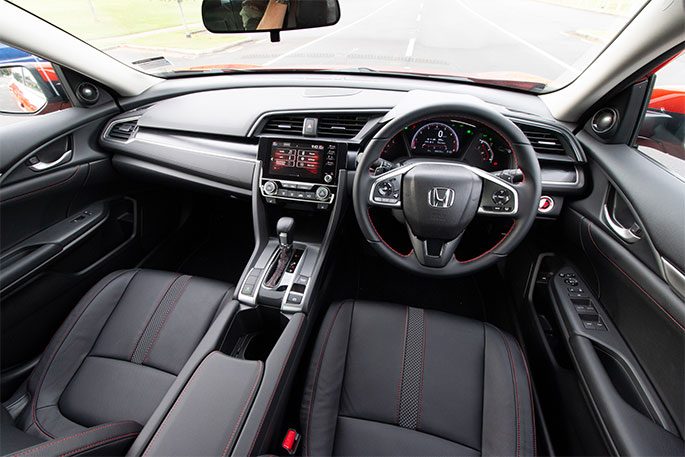 One of the best features is the collision mitigation system. Basically, it will brake if a collision is certain and the driver does not react quickly enough. It is designed to reduce the severity of an accident, and there is also a collision warning system.
The other feature that appeals is the cameras on the wing mirrors that display on the main screen when the indicator is activated, while the high beam support system is a useful tool for those dark highway trips.
The system automatically changes the headlights from low to high beam on a clear road, then back to low beam when following another car or an oncoming vehicle is detected.
The driver's seat has eight-way electric adjustment, which I put to good use before I set sail, and both front seats are heated.
Put simply, if you never gave the Honda Civic a second glance back in the day, perhaps it is time to revisit that. The Honda Civic RS Sensing can be test driven at Bay of Plenty Honda on Elizabeth Street.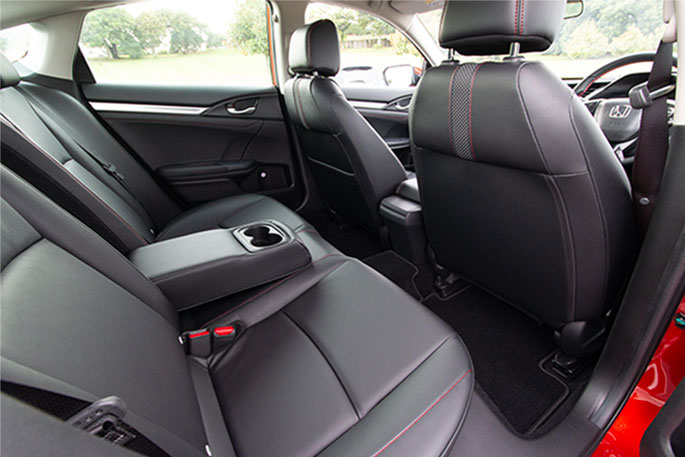 Model: Honda Civic RS
Engine: 1.5L DOHC VTEC Turbo
Transmission: Seven-speed EarthDreams CVT
Power: 127KW, 220Nm torque @5500 RPM
Priced from: The Civic is priced from $32,990 + ORC. The Civic Sedan RS Sensing, as tested, is priced from $39,990 + ORC.