I was full of nervous excitement when I arrived for my date with the new Peugeot 508 GT.
This French fastback is soooo good looking. I wore my best shirt for the occasion but I might as well have worn a shopping bag. All eyes were on the 508 and her stunning red paint and black leather seats.
Slanted LED daytime running lights at the front are winking wickedly from their vertical mouldings.
This is a lean, mean sports machine. Shades of American muscle car are evident in the aggressive, low-slung design but there is no mistaking the European styling.
This car is designed for the professionals with stunning good looks and a fuel efficient 1.6 litre turbo engine that produces a whopping 225 horsepower to match.
Inside, the show continues with a sleek, black console, bucket seats and racing steering wheel. There is an option for red leather trim which looks particularly good on a black car. But the black looks great on the red machine.
The GT has just two other optional extras – the panoramic glass sunroof and a thing called night vision, but I'll fill you in on that later. All the other features come as standard and there's a lot of them.
This car is definitely not all about the good looks. It is smart, seriously smart.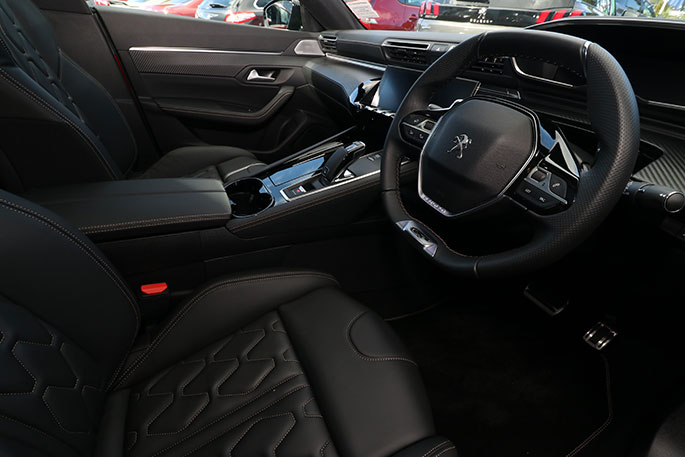 You don't really sit in this car, it is more like becoming part of it – a single entity assisted by the bucket seats that remember your preferences. They are heated and contain eight massage points. Both front seats are electric.
This is a liftback so there are good storage options and the back can be opened and closed without getting out of the driver's seat.
Peugeot's i-cockpit is designed to be your personal assistant. It will sync with your android or i-phone, adding its big 10" screen to your device. It will even charge your mobile device wirelessly, just don't ask me how.
The even bigger, 12" heads-up display is fully digital with the key data like speed easy to read amongst all the other information available.
By pushing the right buttons we are set to launch.
This car has a lot of features and while you don't have to get your head around them all straight away, it would be a shame to ignore them altogether.
After all, if you own a futuristic rocket ship, you would want to learn how to fly it, right?
To set the scene for what is to follow it is worth mentioning that this foxy French assassin has her spies: 12 ultrasound sensors, a radar enmeshed in the bumper, 180-degree cameras front and rear and another camera up high for good measure. And then there's the night vision.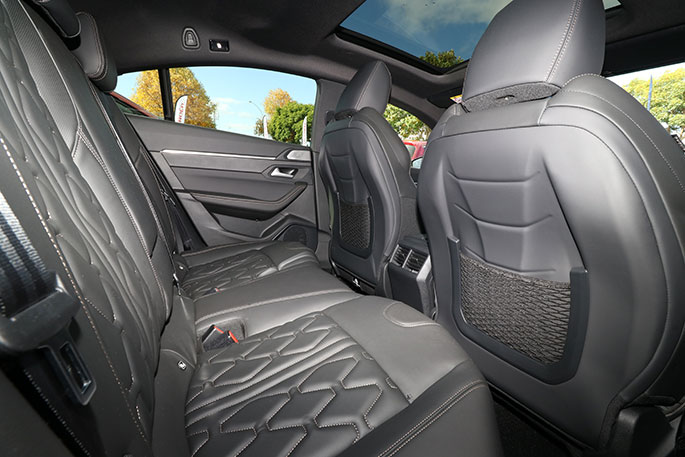 So, after a few minutes of getting to know each other, the 508 and I set out on our date.
Having already met the 508's cousin, the 308 hatchback, some things were pretty similar. The touchscreen is activated by pressing three fingers to it, which means you don't have to look away too long.
They also share the same engine – which is a good thing. The latest-generation PureTech turbo petrol engine produces 225hp while also retaining the ability to deliver fantastic fuel economy.
You can select from a variety of drive modes which adjust the suspension for comfort or for sports mode. There are paddle gear shifters on the steering column for those who want more of the driving experience but the EAT8, eight-speed automatic gearbox offers quick and seamless gear shifts.
To fully test the handling, we turn left on the other side of the Wairoa River and head for the hills along Crawford and Poripori Rd.
It really is a pleasure to drive on the tight, twisting turns. The set-up is very stable and the acceleration up the steep roads is excellent.
Back down on State highway 29, we turn for home and try some of the other features this car is keen to show off.
The drive assist package takes semi-autonomous driving to a new level with cruise control that not only keeps you at the desired speed but will automatically slow down and matches the speed of vehicles in front. It will keep the desired following distance.
At the same time, lane assist keeps the driver in the chosen lane. Combined with the adaptive cruise control, the car is almost driving itself.
Don't be complacent though. Take your hands off the wheel and the 508 is quick to put you in your place with a stern warning. The driver, of course, must keep their hands on the wheel at all times, no matter how much of the driving is being done by the car.
At night, or on a gloomy or foggy day, the 508 has a trick that will brighten anyone's day. An infrared camera works with the big LED screen in the cockpit to highlight any hard-to-see threats lurking ahead in the shadows or the fog: Pedestrians, hidden vehicles or animals.
The 508 GT comes standard with a whole bunch of other safety features, collectively known as the Safety Plus pack. That includes Advanced Automatic Emergency Braking System with Distance Alert, Active Lane Keeping Assist and Speed Limit Recognition and Recommendation.
Then there is Active Blind Spot Detection, Advanced Driver Attention Alert, and Smartbeam Assistance (automatic high-low beam adjustment).
The 508 GT has parking assist which is a lot of fun to play with and real handy if you have a tricky parking spot to navigate. It will literally park itself in either a parallel parking situation or into a parking bay.
This whole feast of technology, comfort and performance comes with a sound system that is literally music to your ears – the focal hi-fi system delivers the sound specifically to your location, via 10 speakers.
Then there is voice recognition, GPS navigation and all those high-end features you wouldn't necessarily get in a vehicle in this price range.
The 508 feels like a car that is out of your league but the total cost of ownership is something that has been factored into the equation. The retail price, running costs, durability and even the residual price – the price you can expect to get when you sell it – have all been considered.
As we cruise back into the Tauranga Peugeot car yard on Cameron Rd, I'm more than a little bit envious of whoever ends up with this car. But it was fun while it lasted.
To get acquainted with the 508 GT head down to Tauranga Peugeot on Cameron Rd.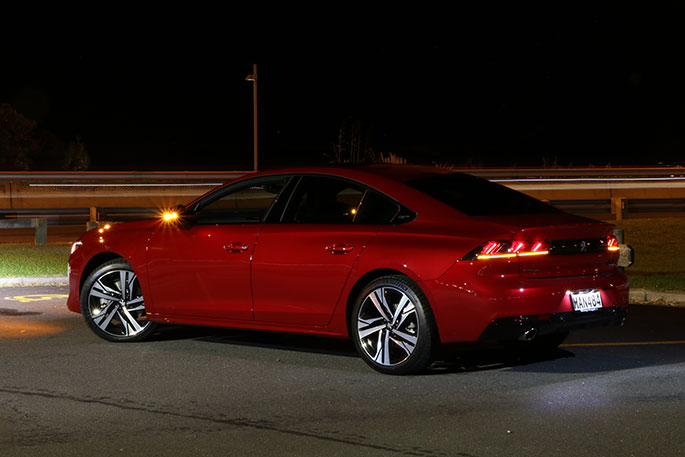 Model: Peugeot 508 GT
Engine: PureTech 225 petrol
Transmission: EAT8, eight-speed automatic
Power: 225hp @ 5500rpm
Torque: 300Nm at 2500rpm
Price: From $55,990 (includes GST)