If it weren't for your gumboots, where would you be?
Now, if I was an incompetent farmer and stepped out the door in a pair of wing tips, instead of red bands, I reckon I could still get a fair bit done in the Isuzu D-MAX.
With the Shadow Kit on it, even if you did jump out the door, straight into a steamy welcome pat, nobody would stop and laugh at you – they'd be too busy looking at your truck.
The D-MAX is a bit of a pin-up with this Shadow Kit. It includes the wide fender flares, heavy duty side steps, front bumper guards, tints and a mean looking decal set.
The Shadow kit with an RRP of over $13,000 is available with any D-MAX for an extra $8750+gst, and is standard on the Limited Edition Fieldays Pack model.
The kit also includes premium Grappler A/T tyres and exclusive Pantera leather seats.
So, with my best pair of shoes on, and no intention of getting out of the truck (fingers crossed), I head for the hills.
Having test driven a few vehicles, it always pays to ask if there are any hidden quirks to be aware of. I recently sat in the driveway of a car yard for 10 minutes, working out how to make it go forward.
The answer is a simple 'no'. This is no space age vehicle with buttons instead of levers. The steering wheel does not try to intervene if you stray to the edge of the lane. It doesn't bark at you if you do something wrong or tell you what the speed limit is.
There are loads of safety features like advanced braking system, side intrusion bars and airbags and it earns its five star ANCAP safety rating. There are extras like trailer sway control but mostly there is just the things you need in a ute; traction control, high and low ratio 4WD, Sat Nav', a great sound system. There are none of the things you don't need.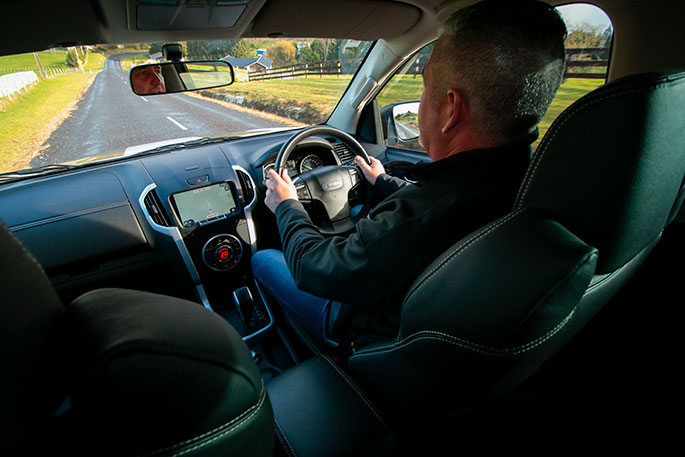 The talk from Isuzu owners is that these things are indestructible, incredibly reliable and are great off-road and on-road.
Get it regularly serviced and your ute will go for many hundreds of thousands of kilometres before stuff begins to go wrong. This reputation is backed up with a 3-year Unlimited KM five year warranty. (This is the only ute in NZ with an unlimited KM warranty)
It is designed to be a truck that simply gets on and does the dirty jobs, year in and year out.
The three-litre turbo diesel engine produces about 130kw of power while the recently re-worked rear suspension system provides a higher level of comfort, without sacrificing load capacity.
The load capacity is pretty impressive too - you can put 1085kg on the back which is basically a 1000 litre tank. Towing capacity is much the same as other utes in the workhorse class at 3500kg.
So, I head for the hills to look for cows and mud and steep hills.
Would you believe, I'm barely 10km up Oropi Rd when Hereford Rd pops up on the left. This is surely a sign from the motoring Gods because it doesn't get any more rural than that.
There are plenty of farms around here – it is like a poster for rural life. It does for the D-Max, what Central Otago does for pinot noir. So this is where the Bruce goes to shoot the photos later.
However, I doubt anyone wants me to tear up their lush grass and winter feed, so I head further up into the Kaimai's in search of gravel roads and deep ruts.
This 4WD handles the obstacles with ease and is crying out for more of a thorough test. I'm not sure what our insurance status is, so there's no river crossings or perilous, rocky hill climbs.
Check out the more comprehensive test drive videos online and you will see this ute does have the credentials when it comes to the hard stuff.
On the open road and around town the rear wheel drive and the suspension deliver a surprisingly comfortable drive. It is not jarring as you would expect from a serious ute. The three leaf suspension is still designed to handle a big load, but without sacrificing comfort.
Steel pates protect the length of the undercarriage from rocks and stones.
Inside, you can put your slippered feet up and listen to your tunes on the eight speakers. If you get lost there is an eight inch touchscreen with a satellite navigation system – this is an essential bit of kit these days so it fits the brief for the D-MAX.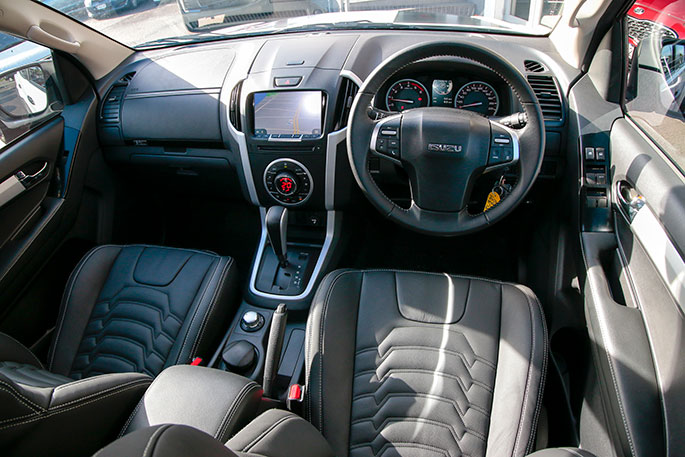 All-in-all, this is well worth taking a look at. There are 12 models to choose from, including the single and double cab, 2wd and 4wd, auto and manual, starting from $39,990.
The Shadow Kit can be added to any D-MAX model for $8750+GST and that really makes a statement.
Model: D-MAX LS Double Cab 2WD Manual Fieldays Special
Engine: 3.0l DOHC, turbo diesel
Transmission: 6-speed manual
Power: 130kw (175hp)
Torque: 430Nm
Price: RSP$32,990 +GST+ ORC
As Tested: D-Max LS Double Cab 4WD Auto Limited Edition Shadow Pack $59,490+ORC