What does the Jaguar F-PACE and a game of golf have in common? Not much really, except it will look great in the carpark and everyone will definitely know you have arrived.
However, I did kind of feel like I'd scored a hole in one when the request to review this mean machine turned up in my inbox.
The F-PACE is the big, bad boy of the Jaguar range and the model tested was the biggest and 'baddest' of them all.
It is a big SUV with a 5-litre, V8 supercharged petrol engine that boasts 543 horsepower. More than enough to carry a gaggle of golfers and all their gear.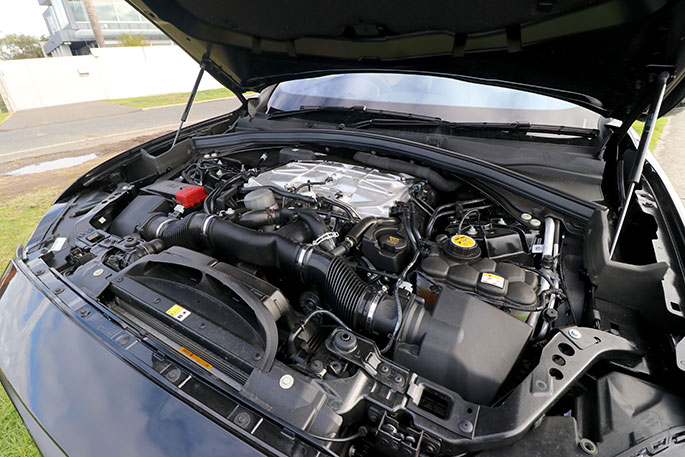 But who would want to play golf if they had one of these?
Not me, so I pitched a series of fun activities to the guys down at Duncan and Ebbett on Hewletts Rd. I could take it up to Taupo and test it on the Bruce McLaren Motorsport Track, then carry on up to Mt Ruapehu and the ski field access road.
Not surprisingly, none of these options appealed. I'm guessing it's something to do with insurance and the $180,000 price tag, which includes pretty much all the extras available.
Nevertheless I was prepared for such a disappointment, and had a pretty good route mapped out that would test this big beast, without exceeding the speed limit, or offending the sensibilities of the local farming folk.
So, I merge myself with the luxurious leather bucket seats while sales executive Grayson Garrett explains the various idiosyncrasies peculiar to this car. It has all the extras you would expect of a car in this price range - active lane assist to keep you on the straight and narrow, active cruise control to maintain your following distance.
And there are a few extras, like a heated windscreen and seats that adjust in a multitude of different ways (18 to be exact). The panoramic sun roof pulls all the way back to really bring the outside in.
Don't do what I did and press the number 1 button on the door, out of curiosity. These are pre-set seat positions (driver memory) and when they adjust it's like being in one of those cars out of the Transformers series.
There is ample leg room in the back, and the same awesome leather bucket seats. Everything looks and feels like quality. The seats fold down so you can fit the golf clubs in easily enough.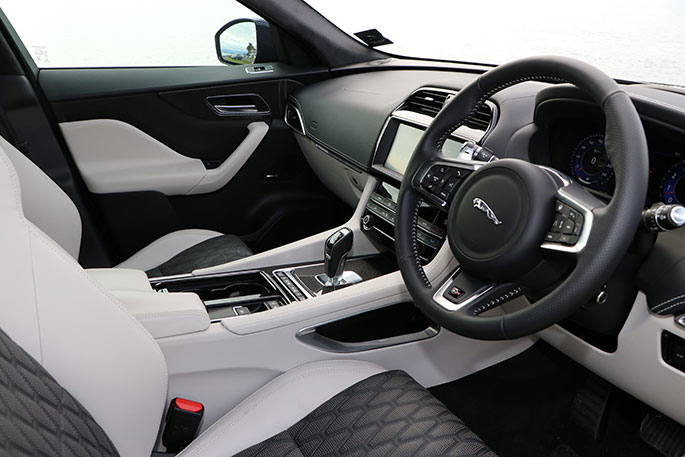 The button I am most looking forward to pressing is the one with the two exhaust pipes drawn on it.
This vehicle already has the unmistakeable supercharged V8 grumble but press the button and a few extra ports open to add some crackle and extra volume. It's great for warning cyclists when you are still 2km away and it means you still have that gravitas, even in traffic and at low speeds.
Once the briefing is over, it's time to say goodbye to Grayson. I carefully guide the big F-PACE out of the yard and then I'm off.
With a touch of gas, it growls out onto Hewletts Rd, matching pace with the traffic almost instantly.
Even though this is effectively a highly sophisticated hot rod, the acceleration is not as jumpy as the horsepower would suggest. It is easy to control the power and you need intent to fully use it. That isn't to say the ease of acceleration doesn't take some getting used to – you can be well over the speed limit in the blink of an eye if you are not careful, but there are warning systems for that as well.
The seats are incredibly stylish and comfortable. The Meridian Surround Sound system boasts a total of 825 watts and it really pumps out the tunes.
But you don't actually want to leave the music on, on your first excursion in the F-Pace. This vehicle sounds good enough all on its own.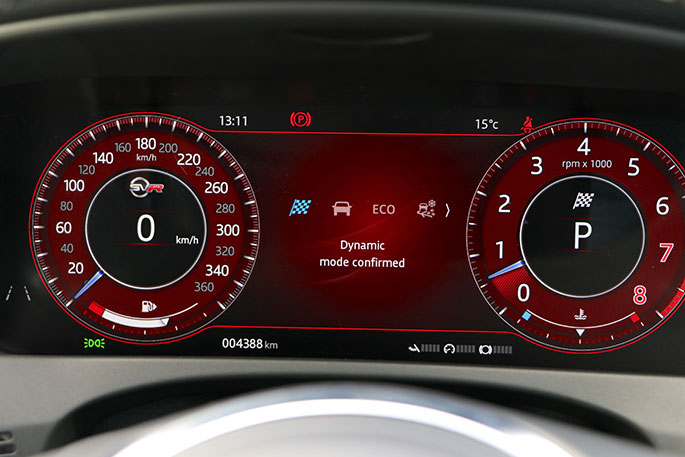 I head out of town, through Bethlehem, over the Wairoa River Bridge and turn left up Wairoa Rd. This route up through Wairoa/Crawford/Poripori roads is excellent for testing performance vehicles when you need to stick to the speed limit.
The twisting roads, steep sections and short straights give some insight into what the F-PACE is capable. It can reportedly reach 100 km/h from a standstill in 4.3 seconds and has a top speed of 283 km/h.
The torque is an astonishing 680Nm which is achieved in the 2500-5500
rpm range.
All of this adds up to a very fun ride.
Powering up over the hills, it is easy to get a sense of the true nature of this vehicle although it would be great fun to test the acceleration, speed and handling on a proper track. There's really nowhere else to test the full limits but there are plenty of on-line reviews if you are keen to see it really taken through its paces.
For me, the grumble and crackle when accelerating and decelerating is quite fun but it can startle joggers and cyclists so you can tone it down a bit by closing those ports in the exhaust.
Ninety minutes goes by pretty quick in the big F-Pace and soon I'm pulling back into Duncan and Ebbett's yard and handing the keys back to Grayson.
If you want a shot of adrenaline in your quest for the perfect SUV, then head down and try it for yourself.
Spec's
Model: Jaguar F-PACE SVR
Engine: a 5-litre, V8 supercharged (petrol)
Transmission: 8-speed auto
Power: 543 horsepower
Torque: 680 Nm (2500-5500rpm)
Price (as tested): $180,000
Price (base SVR): $157,900