I've got fond memories of the Suzuki Swift from a few years back.
Newspaper vehicle fleets are usually comprised of beat up vehicles with high mileage, suffering the effects of dozens of different drivers with varying theories on how to use the clutch.
On this particular occasion I was working down south and had to head up to Queenstown – the adventure capital. I was to spend two days immersed in coroners' inquests so fun times were not on the agenda.
But then I saw it, shimmering in the Invercargill drizzle - a brand new Suzuki Swift. It had arrived the previous day, with just a couple of hundred k's on the clock. There was not a single muddy footprint on the floor.
So I nabbed it and left town, winding my way up the country as the rain cleared and the ragged white peaks appeared through the disintegrating clouds. The twisting roads and dramatic scenery along Lake Wakatipu definitely helped but it was the cool little car that made this one of those memorable drives. It just had the x-factor and a good heater.
The popularity of the Swift has grown and grown since then. The challenge for Suzuki is to keep producing the same magic that people were drawn to in the first place.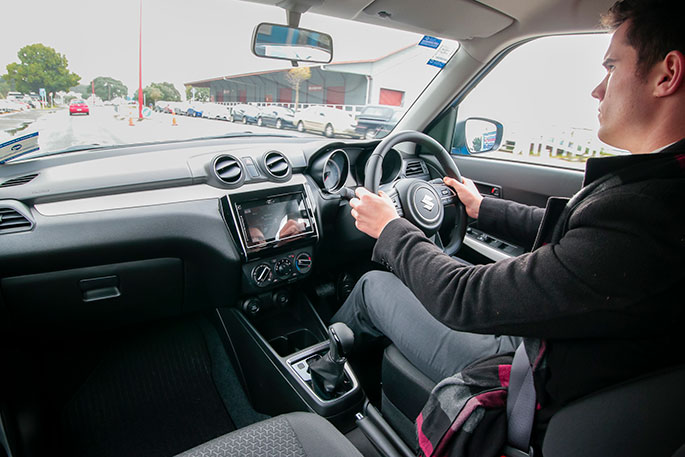 Needless to say, when I got the chance to take one of these out again, I nabbed it. I wanted to see if the Swift still has the x-factor.
The guys down at Tauranga Motor Company gave me the keys and I hit the road again. The SR2 model has the same peppy little 1.2 litre, 66kw, 4cyl engine as the base model. Added to that is most of the extras you will find on the up-spec RS turbo model.
It sits smartly on its 17" black gloss alloys, similar to big brother the Swift Sport.
Inside, it has Apple Car Play and Android Auto so you can hook your mobile device up and pump out your own sounds or access other apps via the infotainment system.
The SR2 is also distinctive with its streamlined black roof. SR2 is a limited edition run with four different colour schemes: blue with silver roof, black with silver roof, premium silver with black roof, silver with black roof. Gracing the side profile are carbon fibre look side skirts, while the unique SR2 badge on the rear hatch rounds off its slick street-style.
There is just something about these Swifts that makes driving a lot more fun than other small cars. The non-turbo models are not overly powerful but they are peppy enough to zip up hills and around corners.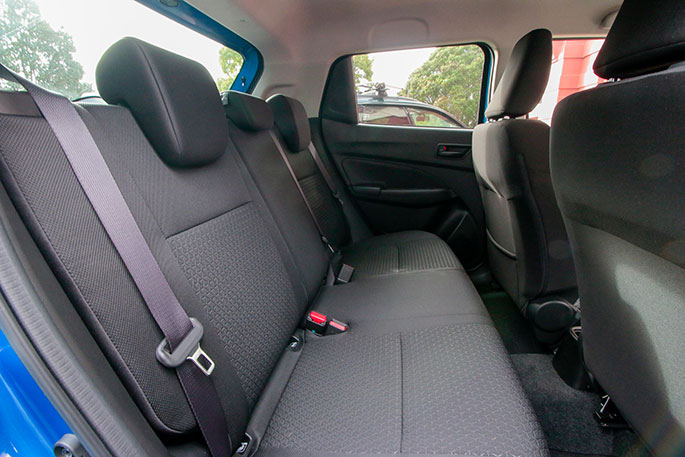 The torque kicks in later in the rev's but its arrival is timely on the hills or when overtaking. The SR2's zesty 1.2 litre 16 valve DualJet VVT engine is lightweight, quick and responsive.
I took this vehicle up and over the Kaimai's to try and replicate my last drive through the mountains in a Swift. And yes, it does still have that distinctive Swift feel to it – the fun factor – plus a whole lot more.
It is quite a bit lighter than it used to be and the engine is more refined.
This vehicle still hangs on to the same distinctive Swift shape that it had eight or nine years ago even though SR2 styling in particular adds a new dimension. For me, it delivers on its reputation, despite the nostalgia and heightened expectations.
There are plenty of safety features too, to help you on the road but they don't take away from the feeling that you are really out for a drive. There is the anti-lock braking system with electronic brake force distribution, electronic stability programme and six SRS airbags.
Safety and convenience combine in some of the other features like cruise control, speed limiter, hands-free Bluetooth connectivity and LED running lamps. The SR2 auto adds a 7-inch touchscreen infotainment system with Sat Nav and reversing camera.
And with a small car like this you would expect it to run on the smell of an oily rag. It boasts a fuel economy of just 4.8l per 100km. That all depends on how you drive it and where you take it, of course.
Sadly, this test drive came to an end all too soon – I would have happily kept driving it down to the southern lakes but, once again, I had to give it back and get on with the day job.
To taste a slice of the Swift, you will need to go and see the team at Tauranga Motor Company, 326 Cameron Rd. They have a 3.9 per cent, no deposit, finance deal available on the Swift range too.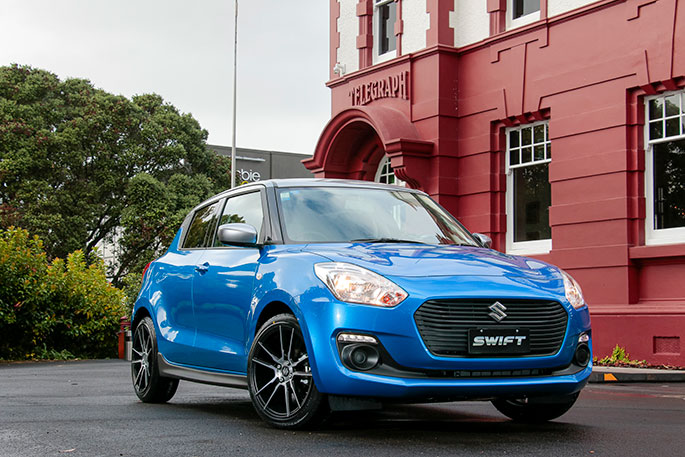 Spec's
Model: Suzuki Swift SR2
Engine: 1.2 litre petrol
Transmission: CVT auto
Power: 66kw (89hp)
Torque: 120Nm @ 4400rpm
Swift SR2 available from $21,990 (manual)
Price as tested (Swift SR2 auto): $23,990
Swift available from $19990 (GL Manual)