Baleno; translated from Italian it means a 'flash of lightning' which is exactly what the Autumn Orange Suzuki Baleno I drove would look like as it glides down the highway toward Papamoa, I imagine.
What impressive performance out of its six-speed automatic gearbox and 1.0 Boosterjet Turbo engine which stars in the RS model that I drove.
I have been fortunate enough to drive many cars, some with big engines and some with small, and I can confidently say that this little engine has a big heart.
As you push the throttle and get up to speed, you notice that the average fuel consumption is nothing short of amazing. Suzuki claims a combined average of 5.2l/100 km and I reckon that's pretty bang on.
Once I got myself comfortable, which wasn't too difficult thanks to the spacious interior and well-formed seat, I started to play with all the dials, the radio and the buttons on the steering wheel.
This car does everything you would expect it to… and then some! The infotainment system is easy to operate with clear pictures making the menu easy to read.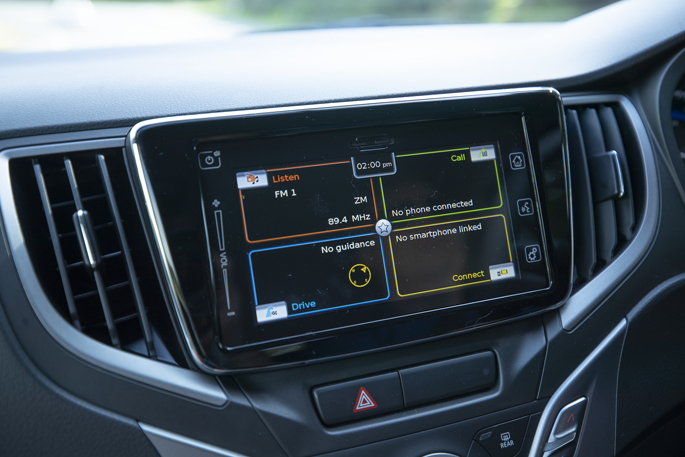 The seven-inch touchscreen stereo which is in both the GLX and the RS models features a very clear reverse camera with guidelines, is easy to use and uncluttered. These stereos are equipped with Apple Car Play/Android Auto, Bluetooth and the impressive acoustics come from six speakers which are strategically placed to maximise sound and quality.
Whilst heading away from the highway, I steered the Baleno towards Welcome Bay road to see how it steered and steered it did, very well indeed. The Baleno felt solid and committed to every turn, the well proven MacPherson strut and coil on the front end and torsion coil combo at the back end along with its 16inch wheels wrapped in Bridgestone tyres soaked up the road confidently.
Attached to all this is the equally impressive array of safety features – six airbags, Electronic Stability Programme (ESP), ABS with electronic brake distribution, brake assist and Suzuki's unique total effective control technology.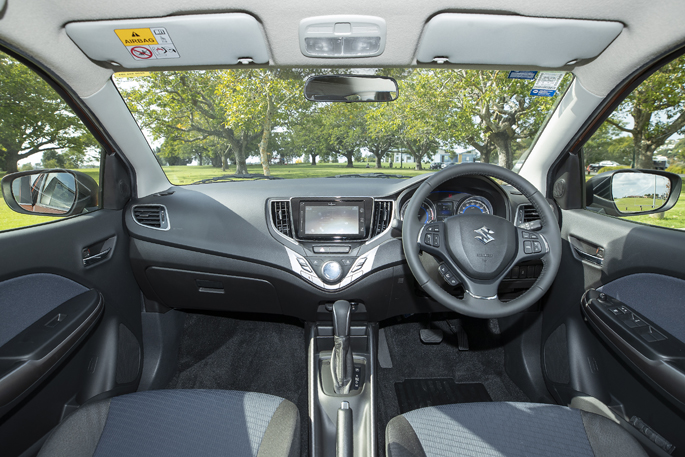 Last but not least is the rear cabin area which I found to be surprisingly comfortable for a not so small guy! There was plenty of legroom and at 5' 11" there was plenty of headroom. A 12v power socket ensures power for a phone charger, a small fridge for the cold stuff or even perhaps a small hair dryer if that's your thing. The boot of the car is generous and would easily fit two large suitcases.
To sum it up, I thought the Baleno, for a small car, is more than practical for pretty much whatever you want to do with it; from doing the school run, shopping, Uber or even a highway cruiser, the Baleno would do it all, and cheaply.
The Suzuki Baleno line-up starts at $19,990 for the manual GLX and $21,990 for the GLX Auto. The range topping RS model (as tested), which is usually $25,990, is currently fantastic buying at $23,990 plus on-road costs for a limited time.
Pop down to Tauranga Motor Company at 100 Hewletts Rd to test drive one today or call them on: 07 578 1378.
They are open seven days.