When you give a car nut keys to a vehicle with a T in the model, and that T means Turbo, expect blood to be drawn as those keys are snatched from your hands.
In this case, I was handed the keys to the all-new Kia Stonic LX-T.
In a lot of cases, the T turns out to be a disappointment. And when faced with a 1.0-litre engine, expectations were moderated.
Expectations be damned. Kia's brand new for '22 Stonic could be described in one word - epic.
Kia describes their new SUV as "the small SUV for a bigger life". I get it. While this latest horse from the Kia stable is the smallest of their SUV range, the appeal, practicality and driving experience can certainly open up the world to all types of people.
Want a seriously economical car to do the shopping? Stonic. Want something that cruises the country in comfort and style? Stonic. Want a fire breathing dragon that can pin a smile to your face? Stonic.
I seriously do not remember the last time 'Sport Mode' in a car made any other difference than holding gears for longer. But Kia performs some kind of wizardry, and when you change up from Eco, through Normal and into Sport, the car really comes alive.
The turbo charged GDI engine is a marvel of engineering. With an average fuel consumption of just 5.4-litres/100km, it's one of the lowest fuel sippers out there. Yet, when compared to the 1.4 engine in other models, at 6.7-litres/100km, the power is the same at 74kW but has higher torque at 172Nm for a wide band of the RPM range – 1500 to 4000rpm.
The GDI also comes mated to a seven-speed dual clutch transmission. Usually, dual clutch transmissions are saved for sports cars, yet this one is nestled in the refined package of an SUV.
Of course, it's not all about performance. Sitting nicely between the Kia Rio hatch and Seltos SUV, it may be a "small" SUV, but it's a superbly spacious vehicle.
The interior of the Stonic is what I've come to expect from Kia. It's well laid out with clear controls and there's nothing to distract the driver. Everything is so well placed - you quickly switch to automatic mode and never think about where anything is, allowing you to focus on the road ahead.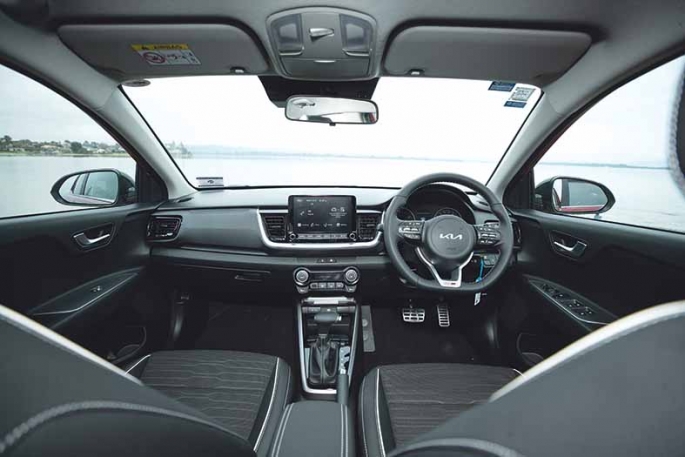 The Stonic is superbly comfortable too, and the seats quickly seem to become part of you. It's comfortable and driving for a long time is a breeze.
We've got comfort, spaciousness and plenty of boot space, alongside power, looks and handling. And included extras? There's Heaps.
We're talking collision avoidance, lane keep assist, lane follow assist and driver attention alert. Need I go on? Yes, I need. There's also rain sensing wipers, rear view parking cameras, an eight-inch LCD infotainment touchscreen and even wireless Apple Carplay and Android Auto!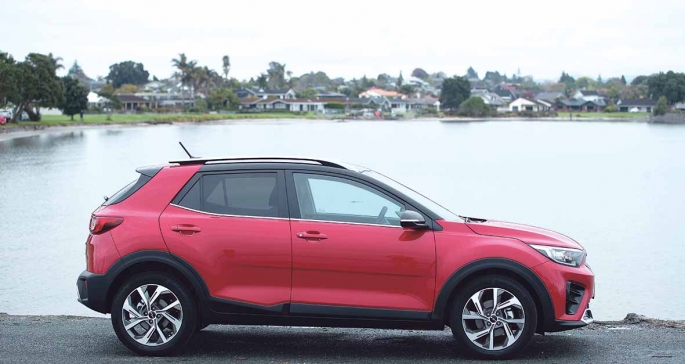 As you can see with all of those features, safety is certainly not forgotten. All models in the Stonic range have a five-star ANCAP safety rating.
Even the wee ones can be safe, with two ISOFIX points in the rear for child safety seats.
There's a choice of nine colour options, with four solid and five dual-tone colour options available.
There's also something extra special with this particular model right now – Kia is offering a special launch price for the Stonic LX-T of just $26,990 + ORC. The normal retail price is $31,990, so there's a $5000 saving just for showing up.
If you are in the market for an SUV with a small package and a huge heart, the Stonic is well worth a look. The range starts at $26,990 + ORC for the LX model, up to $33,990 for the range-topping GT-Line Plus.
At $26,990 + ORC, the special offer on the LX-T is exceptional value for a car of this standard, and it comes with all the features of vehicles twice that price. When you consider Kia's excellent reputation for reliability, build quality and driving satisfaction, it's a package you won't want to miss.
Head to Tauranga Motor Company Kia, at 100 Hewletts Road, Mount Maunganui, to get yourself a test drive in one of these beauties.
Car: Kia Stonic LX-T
Engine: 1.0 GDI Turbo
Power: 74kW/172Nm Torque
Transmission: 7-speed dual-clutch automatic
Special Offer: $26,990
Pricing excludes on road costs